MRES
Specialists in the Art of Real Estate Sales and Financing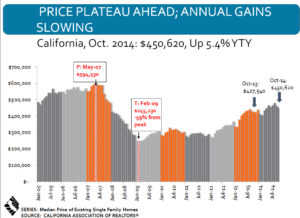 California real estate values dropped a huge 59% from it's peak May of 2007 to it's bottom February 2009. Then the big money realized housing was priced below it's long term fundamental levels. The institutional and foreign investors came in hard, pushing aside the traditional domestic buyers, and drove the prices up for the past couple years. Over the past few months the institutional buyers have pulled back from their heated buying frenzy. The upside, domestic buyers have more inventory to...Continue Reading!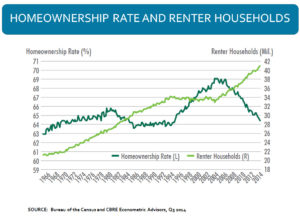 According to the Housing Vacancy Survey conducted by the Bureau of the Census, U.S. housing demand grew by 541,000 households between Q3 2013 and Q3 2014, while the national homeownership rate declined 90 bps—from 65.3% to 64.4%. Over this period, total household growth and the decline in the homeownership rate produced an increase of 1.2 million renter households nationally, including single-family renter households. As of Q3 2014, the homeownership rate was at its lowest level since 1995. Unfortunately there is a...Continue Reading!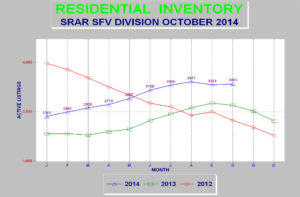 The San Fernando Valley residential real estate market over the past couple months has shown a very stable condition. If we reference the charts, the active inventory level has been flat over the past few months. This is after a major inventory increase over the past year and a half. The quantity of sales have been flat since March. The prices have dipped fractionally over the past couple months. Properly priced properties that show well, and don't have negative attributes, can...Continue Reading!
Beautiful remodeled 3 Bedroom 3 Bath Valencia Northbridge Pool Home, located on a very private lot in a cul-de-sac. Upgrades throughout. The entertainer's backyard features a private sparkling pool, spa and waterfall that augments the HOA pool, spa, clubhouse, tennis courts, basketball courts and other amenities. The remodeled kitchen features newer cabinetry, top of the line appliances and granite counters. Enjoy eating at the kitchen counter, or in the breakfast nook. Large walk-in closet in master. Great location. Close to...Continue Reading!
The San Fernando Valley real estate market continues it's transition from a seller's market to one of neutrality. A "well priced" listing can still move fast. A poorly priced property can sit on the market, and take price reductions. When looking at the most recent real estate statistics, the primary numbers to reflect on are the continuing growth in unsold inventory, days on the market, and resulting month over month drop in the median home price. The year over year...Continue Reading!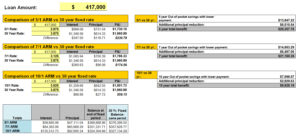 Traditionally, everybody wants a 30 year fixed mortgage. You know the interest rate isn't going to change for 30 years. Cool, but what if you're paying a lot of money for that longer term guarantee? What if you're planning on moving in 7 or 8 years? Have to refi to pull money out for kid's education? The average house is only retained for around 7 years before it's sold, and the average mortgage retention is less... I'm not taking anything away...Continue Reading!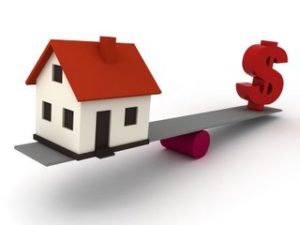 The Qualified Residential Mortgage Rule (QRM) part of the Dodd–Frank Wall Street Reform and Consumer Protection Act, is finally starting to look like it'll not just correlate with the Qualified Mortgage Rule (QM) that was put in place in January, but it will not have the 70% loan to value criteria that was originally discussed. The QRM provides a set of requirements a loan must meet to be considered safe and eligible to be sold to investors as part of a...Continue Reading!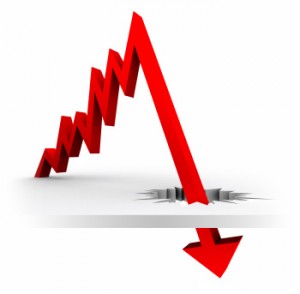 Mortgage rates have dropped substantially over the past few days. The middle of September the story was "how soon will the Fed increase rates?", and the 10 yr note was 2.6%. Now it's "geopolitical issues, how weak is the European economy, and Ebola". The 10 yr note is below 2.0%. If you have an interest rate over 4%, call me to see if it's advantageous to refinance. We haven't seen these rates since August of 2011. The rates dropped more...Continue Reading!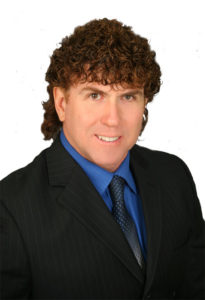 Don't wait for the news to give you obsolete information. Ron Henderson President/Broker of Multi Real Estate Services, Inc will be conducting a presentation on how to use past and present indexes, charts, housing data, and technical analysis to determine the future direction of interest rates and the real estate market. Real Estate for Girls - Real Estate Investment Group Wednesday October 15, 2014 at 7pm 12036 Ventura Blvd Studio City, CA. Room to the left. Admission is free. If you are...Continue Reading!
Builders!!! The house burned down a few years ago, and cleared off the lot. 5 contiguous lots to be sold together (approx. 12871 sq.ft. total). Eclectic country "Twin Lakes" neighborhood with some newer development. Views. Only couple minutes to freeway and city living. Presently requires septic systems, but future plans for sewers in the area. Buyer to conduct their own due diligence on development. $125,000 Additional photos and information on the Property information sheet If you are in the Los Angeles...Continue Reading!