MRES
Specialists in the Art of Real Estate Sales and Financing
The San Fernando Valley real estate market is presently stable, but in transition. The foreign and hedge fund investor buying frenzy has abated, leaving the local standard buyer to do the heavy lifting going forward.
The upside, the local buyers can now find properties to purchase without having the multiple all cash offers to compete with. The downside, interest rates are going up. In conjunction with the higher property pricing from the past couple years, the affordability index has dropped substantially.
The local economy is doing better, but wages have not been keeping up with the appreciation of the properties. The new Dodd Frank mortgage regulations will be in force January 10, 2014. The tighter mortgage qualifying standards will eliminate a fair percentage of the general buyer base.
How will the local market hold up next year? The easy money has been made. There will be a rush to purchase before the interest rates go higher, but will the tighter underwriting neutralize it? Don't expect a renewal of the hot market of early 2013.
Ron Henderson GRI, RECS, CIAS
President/Broker
Multi Real Estate Services, Inc
Gov't Affairs Chair – California Association of Mortgage Professionals
www.mres.com
[email protected]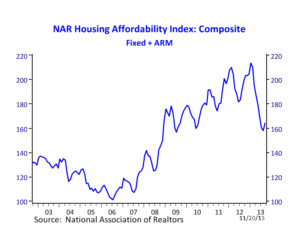 These are the latest affordability numbers from the National Association of Realtors. They don't incorporate the tightening of loan underwriting guidelines due to the new Dodd Frank regulations that are just now starting to be imposed on mortgages, but it does give a good indication on how the increase in interest rates and housing values are effecting the affordability factors.
Ron Henderson
National Association of Realtors November 21, 2013
Housing affordability is up for the month of September in the US and 3 of 4 regions as prices eased seasonally from August.  The median single-family home price is down roughly 5 percent from last month even as August marks tenth consecutive month of double-digit year-over-year price gains for single-family homes.
This easing of prices helped boost the affordability index 6 points from a month ago nationally and boosted the index by 8 points from what it might have been if the price level in August were combined with September's mortgage rates and income.
Because home prices remained roughly steady in the West, it was the only region not to see a boost in affordability from August to September.
Mortgage rates, while still climbing, slowed from the nearly half and quarter point jumps seen in July and August.  Mortgage rates were up 12 basis points from August and 85 basis points from September a year ago.  At current prices and with a 20 percent down payment, the rise in rates means roughly $12 extra in a monthly mortgage payment from a month ago and roughly $79 more than a year ago.
While incomes continue to rise, they are not keeping pace with home price gains and mortgage rate increases from a year ago.   Nationally, affordability is down from 198.4 in September 2012 to 164.3 in September 2013.  Affordability is also down from a year ago in all 4 regions, and coincides with rising prices.  The biggest drop in affordability has been in the West followed by the South, Midwest, and Northeast.  September prices were up 16 percent in the West from a year ago while they show a gain of only 1 percent in the Northeast from September 2012.
This slight easing of affordability is welcome for potential buyers, but uncertainty remains.  While rates have eased slightly in response to confirmation hearings for Janet Yellen, the current nominee for Chairwoman of the Federal Reserve, the Federal Reserve has committed to pushing rates higher as needed to stanch inflation as the economy improves.  The Fed has a tricky balancing act ahead, and assuming the forecast economic improvement finally materializes the trajectory for rates in the future is higher.  If prices hold steady, the long run trend for housing affordability will be lower.
The national drop in existing home sales volume isn't as big a concern as the anemic 28% first time home buyers. As I've conveyed for years, the housing market is not healthy. The increase in values have been driven by hedge funds, domestic and foreign investors… Watch for my blog on the upcoming mortgage regulations that will impact the domestic buyers in 2014.
Ron
AP – Published: Wednesday, 20 Nov 2013 | 10:00 AM ET
Fewer Americans bought existing homes in October, as higher mortgage rates, the 16-day partial government shutdown and a limited supply of homes reduced sales.
The National Association of Realtors says home resales fell 3.2 percent last month from September to a seasonally adjusted annual pace of 5.12 million. That's down from a 5.29 million pace in August and the slowest since June.
Sales of existing single family homes declined 4.1 percent, while condominium sales rose 3.3 percent.
The median sales price of an existing home was $199,500 in October, up 12.8 percent from a year earlier and the 11th-straight month of double-digit annual increases.
First-time home buyers accounted for just 28 percent of sales, down from 40 percent in healthier housing markets.
A separate report from the Commerce Department showed that U.S. business inventories rose more than expected in September as sales advanced modestly, suggesting the government's third-quarter growth estimate could be revised higher.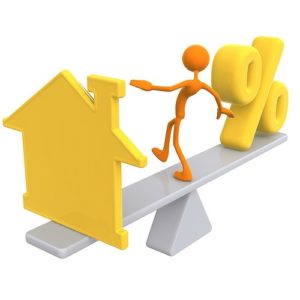 This article reiterates one of the economic headwinds I've been conveying. HELOCs and interest only adjustable rate mortgages generated at the peak of the last real estate market will be resetting soon. The payment shock of the principle repayment being made over a shorter period than a standard 30 year mortgage will have a negative effect on individual's financial scenarios, and the economy, as a whole.
If you're in the Los Angeles region, and want to evaluate your real estate finance options, feel free in contacting me.
Ron Henderson GRI, RECS, CIAS
President/Broker
Multi Real Estate Services, Inc
Gov't Affairs Chair – California Association of Mortgage Professionals
www.mres.com
[email protected]
Some borrowers may no longer be able to afford these credit lines when they are required to begin paying both principal and interest on their balances.
WASHINGTON — Could the real estate market be heading for a new financial storm? Maybe.
Some mortgage and credit experts worry that billions of dollars of home equity credit lines that were extended a decade ago during the housing boom could be heading for big trouble soon, creating a new wave of defaults for banks and homeowners.
That's because these credit lines, which are second mortgages with floating rates and flexible withdrawal terms, carry mandatory "resets" requiring borrowers to begin paying both principal and interest on their balances after 10 years. During the initial 10-year draw period, only interest payments are required.
But the difference between the interest-only and reset payments on these credit lines can be substantial — $500 to $600 or more per month in some cases. If borrowers cannot afford or choose not to make the fully amortizing payments that reduce the principal debt, the bank that owns the note can demand full payment and foreclose on the house if there is sufficient equity.
According to federal financial regulators, about $30 billion in home equity lines dating to 2004 are due for resets next year, $53 billion the following year and a staggering $111 billion in 2018. Amy Crews Cutts, chief economist for Equifax, one of the three national credit bureaus, calls this a looming "wave of disaster" because large numbers of borrowers will be unable to handle the higher payments. This will force banks to either foreclose, refinance the borrower or modify their loans.
But refinancings often will not be possible, Cutts says, because the homeowners won't qualify under the tougher mortgage rules taking effect in January, or the combined first and second mortgages may exceed the value of the house. Complicating matters further, interest rates are likely to rise from their current low levels as the Federal Reserve tapers its purchases of Treasury and mortgage-backed securities. Higher base rates would make the payment shocks even worse. Plus, according to Cutts, many of the owners with high-balance credit lines already have low credit scores — legacies of the housing bust and recession — and have an elevated statistical risk of default after the reset.
Financial regulators, including the comptroller of the currency, are aware of the coming bulge in high-risk resets and have been urging the biggest banks to set aside extra reserves for possible losses. Last month, Citigroup said it was increasing reserves on its nearly $20 billion in home equity lines and acknowledged that the reset payment shocks for borrowers could be a major challenge.
Rating agency Fitch has also sounded the alarm, warning that banks face "increasing credit risk" in 2014 and beyond as borrowers who took advantage of easy terms and fast-rising home values during the boom now confront much tougher credit conditions and could default.
What does all this mean for homeowners with boom-era credit lines and hefty unpaid balances? Potentially a lot. Check your credit line documents to determine when you're scheduled for a reset. Consider contacting the bank that owns your note and asking for an estimate of what your post-reset payment could amount to at your current principal balance or what it would be if you paid off some of the principal.
Most important, be aware of your options. If you have adequate equity in the house but are strapped for monthly cash, talk to the bank about a possible refinancing or loan modification that could lessen the payment pain. Since banks are being pressured by regulators to deal with their potential equity loan issues in advance, you might be able to come up with a modification solution acceptable to both you and the bank.
If you are underwater on your mortgage — more than 1 out of 7 owners continues to owe more on the mortgage than the home is worth, according to realty data firm CoreLogic — and you can't afford the reset payment, the bank may not foreclose on you because there's no equity to recover. But the bank could sell your charged-off account to a debt collection firm or even pursue you for a deficiency judgment in states where that is permitted.
Any failure to pay, however, would be bad news for your credit scores, says Equifax's Cutts — a "big negative" on your credit files, a blot that could cause you problems for years.
Bottom line: If you're one of the many owners with a boom-time credit line facing a reset, don't wait for trouble to happen. Start mapping out your strategy well in advance.
By Kenneth R. Harney – Los Angeles Times  November 10, 2013
Treasury reaps revenue from 2 mortgage giants
Fannie Mae and Freddie Mac, the housing giants whose combined $188 billion bailout dwarfed all others during the 2008 financial crisis, announced Thursday that they will return another $39 billion in dividends to the U.S. Treasury next month, bringing them close to fully repaying the taxpayers who rescued them.
Fannie Mae said it plans an $8.6 billion dividend that will bring its total payments to the Treasury in the past two years to $114 billion — $3 billion shy of its total $117 billion bailout — while Freddie Mac said a payment of $30.4 billion in dividends will more than complete the repayment of its $71 billion bailout.
Further dividends from both mortgage giants at the beginning of next year almost certainly will make taxpayers whole and turn their rescue operations into once-unimaginable cash cows for the government.
Although the two mortgage guarantee agencies technically cannot expunge their debts to the taxpayers and are still owned and controlled by the Treasury under the terms of their bailouts, the near break-even point they have achieved marks a symbolic closing of a major chapter in U.S. economic history as their bailouts were among the most dramatic, controversial and far-reaching events during the tumultuous financial crisis.
The large dividend payments to be reaped by the Treasury also highlight the important role the two mortgage giants have played in helping to sharply reduce the federal budget deficit in the past year to less than half of its $1.4 trillion peak during the crisis.
Just as the financial bailouts contributed in a big way to unprecedented budget deficits in 2008 and afterward, the return of taxpayer funds is now helping to quickly deflate them. All of the major banks have returned their bailout funds, with interest, and the Treasury is slowly recouping money shelled out to smaller banks.
Only the bailout of General Motors Co. remains as a significant loss for taxpayers, although the Treasury is expected to recoup another big chunk of the $50 billion in funds it paid two of Detroit's Big Three automakers when it completes the sale of its remaining GM stock later this year.
"We are quickly approaching the point when taxpayers will receive a positive return on their investment in this company," Fannie Mae Chief Executive Tim Mayopoulos said in announcing a seventh straight quarter of profitability and earnings for the once-insolvent leviathan. "That's obviously very good news for taxpayers."
The mortgage giants owe their profitability to the robust recovery in the housing market and refinancing boom in the past two years, which dramatically lifted sales and prices and sharply increased the fees they earn for packaging individual mortgages into mortgage-backed securities and providing a guarantee to investors.
Defaults on mortgages also are way down, meaning that the once-gigantic losses sustained by Fannie and Freddie are waning and leaving them with more profits. They also are enjoying better returns on sales from their large portfolios of foreclosed homes.
Since being burned by the crisis, Fannie and Freddie have become much more selective about the mortgages they guarantee. Because they provide backing for the lion's share of all mortgages made today, the stricter requirements they have imposed on borrowers have quickly become standard for much of the rest of the mortgage industry.
"We're a stronger and better-run company than we have been in years," said Donald Layton, chief executive of Freddie Mac.
Dilemma for Congress
The growing profitability of the mortgage giants poses a dilemma for Congress and the administration.
President Obama and congressional leaders all say they want to phase out Fannie and Freddie, given their notoriety during the crisis, and turn over most of their functions to the private sector. But the sizable dividend payments streaming out each quarter pose a temptation for lawmakers who are still groping for ways to reduce huge budget deficits.
House and Senate budget negotiators are trying to find savings to replace $90 billion of automatic budget cuts scheduled to take place this fiscal year. But key members of the Senate Banking Committee have worked hard to ensure that Congress does not enshrine Fannie's and Freddie's dividend regime and rely on such payments to reduce the deficit in the future.
"While I'm always glad when taxpayers see a return on investment, we can't forget that Fannie and Freddie wouldn't be earning one penny today without the government guaranteeing their transactions. I don't know of any other company in America that gets that kind of deal," said Sen. Bob Corker, Tennessee Republican and co-author of a bill to phase out Fannie and Freddie and revive the private mortgage market.
Congress has been slow to move on housing reform because Fannie and Freddie, along with the Federal Housing Administration, the federal mortgage insurer, still guarantee nine out of every 10 U.S. mortgages, and lawmakers want to avoid changes that would undermine the fragile housing recovery.
While all three federal agencies have raised their guarantee fees significantly since the crisis, Mr. Corker said, they continue to undercharge for the cost of their guarantees and thus discourage competition from private mortgage insurers. At the same time, as long as Fannie and Freddie remain charges of the government, taxpayers are exposed to losses from any renewed downturn in the housing market, he said.
"It is time to move to a modernized 21st-century housing finance system," he said. "The private sector has been almost completely priced out of the business, and a hiccup in the economy could put taxpayers on the hook for another bailout."
Republican opposition
Many Republicans in Congress continue to blame Fannie and Freddie for causing the financial crisis, and took offense at assertions that they were close to repaying their bailouts.
Rep. Jeb Hensarling, Texas Republican and House Financial Services Committee chairman, said any notion that Fannie and Freddie can repay taxpayers is "Washington spin" and noted that legally, the mortgage agencies cannot buy back the $188 billion of stock they sold Treasury during the crisis and thus they remain on the hook to the government until Congress changes their status.
"The truth is Fannie and Freddie cost the taxpayers a whole lot more than the amount of their bailout. Their failed business model was at the epicenter of the financial crisis — a crisis that threw millions of Americans out of work and ruined people's lives. Fannie and Freddie can never make amends for the catastrophic damage their failed business model caused our economy," he said.
Mr. Hensarling's committee passed a bill this year to phase out Fannie and Freddie and replace them with a private mortgage system that no longer depends on government guarantees. The Senate bill would continue to offer limited government guarantees to ensure that 30-year mortgages and other popular home financing instruments remain available to the public.
Your credit is a critical piece of the qualifying puzzle to get a mortgage.
Imagine you just found out what your mortgage interest rate is from your lender, and it's much higher than advertised rates. You know your credit is better than that, so why is it costing you more than it should to buy a home?
Before you lock in your rate, do some quick investigating.
You could have an error on your credit report that is affecting your credit scores, which in turn, affects your interest rate.
According to a study by the Federal Trade Commission (FTC), approximately one in four U.S. consumers have an error on at least one or more credit reports that could be serious enough to lead to higher rates on loan products. Worse, only one in five consumers were able to obtain a modification to their report.
The three credit reporting bureaus, Experian, Transunion and Equifax, collect data independently – which increases the margins for error. Your lender has no way to know if your report is correct, so it's up to you to get copies of each of your credit reports and check for errors.
Once a year you are entitled to see a free copy of your credit report. You can go to www.annualcreditreport.com and order the reports separately. This is important because banks typically run one report to help set your interest rate. They also check credit reports again just before your loan closing, so you want to make sure that all three credit reports are correct.
If you find an error, you must report it in writing to the appropriate credit reporting agency. Include your name, social security number, date of birth, a copy of the report with the error circled; and copies, not originals, of documents such as social security cards, final payments, release of lien, court orders, or whatever you need to get the report changed.
Make sure your lender has copies of everything so you can prove the credit bureau is in error, not you.
The work you put in is well worth it. According to the FTC, consumers were largely successful at disputing erroneous data.
25% of consumers said the error was corrected by credit reporting agency
80% of consumers said some modification was made to their credit report
Over 10% saw their credit scores changed after filing disputes
Credit scores changed up to 25 points for 5% of consumers
One in 250 consumers saw their scores rise 100 points or more
Once you've been able to get each report corrected, you'll be able to get a better loan rate.
If you need help in evaluating your credit report, or need to pre-qualify for a mortgage, feel free in contacting me.
Ron Henderson GRI, RECS, CIAS
President/Broker
Multi Real Estate Services, Inc
Gov't Affairs Chair – California Association of Mortgage Professionals
www.mres.com
[email protected]
By: Yahoo/Daily Ticker Oct 29, 2013
Single-family home prices rose in August, posting their strongest annual gain in more than seven years, according to the S&P/Case Shiller Home Price Index data released Tuesday.
And while Case Shiller data shows home prices have risen 12.8% over last year, data shows the pace of home value appreciation has slowed quarter to quarter this year.
So how is the the co-founder of the S&P Case/Shiller Home Price Index (also a 2013 Nobel Prize-Winner in economic sciences) thinking about home prices, and is he worried about another housing bubble?
Ron Henderson GRI, RECS, CIAS
President/Broker
Multi Real Estate Services, Inc
Gov't Affairs Chair – California Association of Mortgage Professionals
www.mres.com
[email protected]
Ron Henderson President/Broker of Multi Real Estate Services and a Gov't Affairs Chair for CAMP gives an overview of the present real estate market, inventory issues, and statistics for the San Fernando Valley region of Los Angeles California.
Specialist in the Art of Real Estate Sales and Finance
Ron Henderson GRI, RECS, CIAS
President/Broker
Multi Real Estate Services, Inc
Gov't Affairs Chair – California Association of Mortgage Professionals
www.mres.com
[email protected]
LOS ANGELES (Oct. 22) –  The share of equity home sales in California continued to grow in September, now making up more than eight of every 10 home sales, the highest level in nearly six years.  Meanwhile, the share of short sales fell into the single digits and dropped to levels not seen since January 2009, the CALIFORNIA ASSOCIATION OF REALTORS® (C.A.R.) reported today.
Distressed housing market data:
• The share of equity sales – or non-distressed property sales – rose again for the 10th straight month, making up more than eight in 10 sales, the highest share since November 2007. The share of equity sales in September increased to 85.8 percent, up from 84.7 percent in August.  Equity sales made up 62.7 percent of sales in September 2012.
• Conversely, the combined share of all distressed property sales continued to decline in September, dropping to 14.2 percent in September, down from 15.3 percent in August and down sharply from 37.3 percent in September 2012. Twenty-six of the 38 reported counties showed a month-to-month decrease in the share of distressed sales, with San Diego, San Mateo, and Santa Clara tied for the lowest share at 4 percent.
• Of the distressed properties, the share of short sales, at 9.4 percent, fell to the lowest point since January 2009.  September's figure was down from 10.2 percent in August and was nearly a third of what it was a year ago, when short sales made up 24.3 percent of all sales.  The continuing decline in short sales indicates more previously underwater homes are moving into positive equity as home prices are bolstered.
• The share of REO sales also continued to fall, dropping to single-digits for the sixth straight month.  REOs made up only 4.3 percent of all sales in September, down from 4.7 percent in August and from 12.5 percent in September 2012.  The September 2013 figure was the lowest since August 2007.
• Housing inventory levels improved for the fifth straight month but remained low.  The Unsold Inventory Index for equity sales inched up from 3.1 months in August to 3.5 months in September.  The supply of REOs edged up from 2.3 months in August to 2.7 months in September, and the supply of short sales rose from 2.3 months in August to 3.8 months in September.
Pending home sales data:
• California pending home sales dipped in September, with the Pending Home Sales Index (PHSI)* slipping 1.8 percent in September to 106.4, down from 108.3 in August, based on signed contracts.  The monthly slip was slightly smaller than the average August-to-September decrease over the past five years.  Pending sales were down 8.1 percent from the 115.7 index recorded in September 2012.  Pending home sales are forward-looking indicators of future home sales activity, providing information on the future direction of the market.