MRES
Specialists in the Art of Real Estate Sales and Financing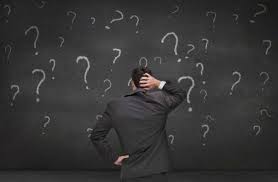 If you're investigating to choose between an ARM or a fixed-rate mortgage, you're not alone. Here's a primer on mortgage types. When it concerns buying a house, you need to make many decisions. You have to determine which community you want to live in, which school district, how much of a down payment to make, etc. One of these choices is what type of loan program you want, whether you will take out a fixed-rate or adjustable-rate mortgage. The difference A fixed-rate mortgage...Continue Reading!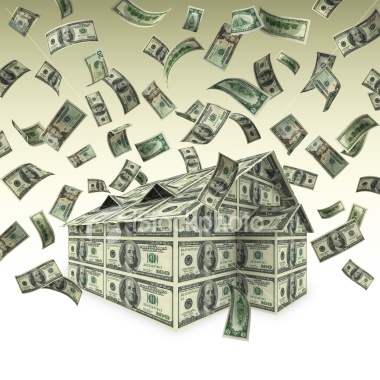 According to the National Association of Home Builders (NAHB), in the last four years, the typical size of new homes has increased 13.4 percent from 2,362 square feet in 2009 to 2,679 square feet in 2013. The Association also states that the share of new homes with a minimum of four bedrooms has increased from 34 percent in 2009 to 48 percent last year. The share of new homes purchased with approximately three full bathrooms rose from 23 percent in 2010...Continue Reading!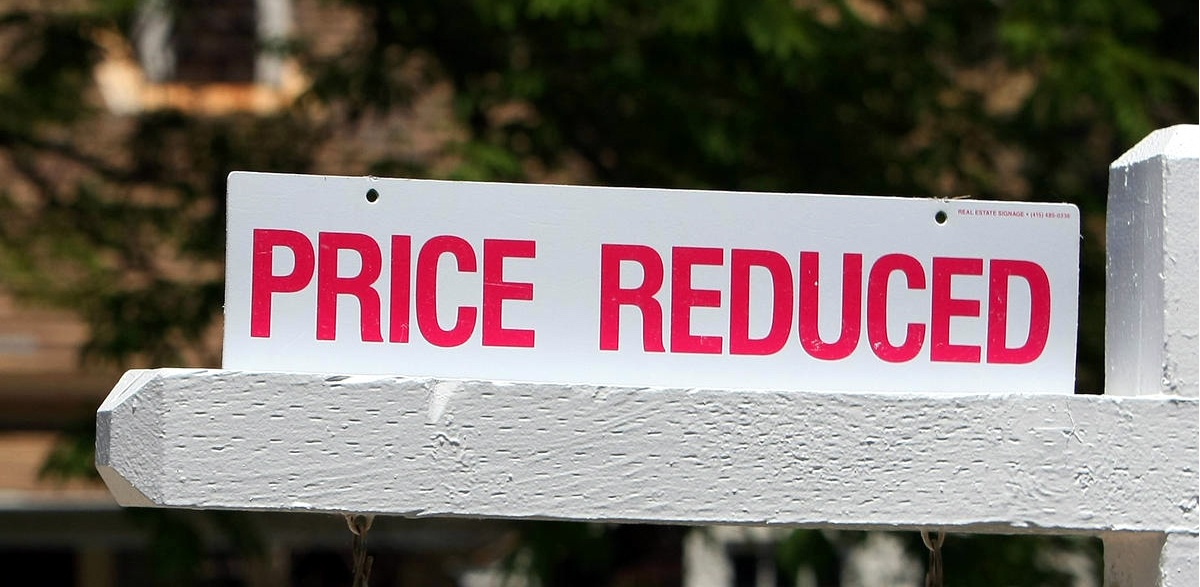 According to the S&P / Case-Shiller Home Price Index released presently, American home prices fell in December for the second consecutive month, but only by 0.01 percent compared with November after a comparable decline the month before. Home prices year-over-year throughout all nine U.S. Census divisions increased 11.3 percent, indicating a rough winter, but overall, an improving industry. David M. Blitzer, Chairman of the Index Committee at S&P Dow Jones Indices, stated the Index ended its best year since 2005, "However,...Continue Reading!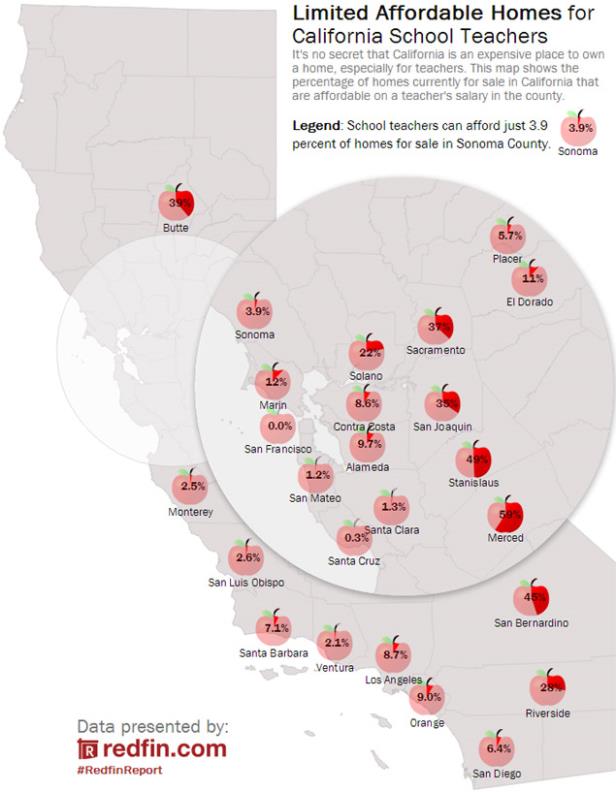 Teachers help form the foundation for strong, local communities, however just 17 percent of homes available in California are affordable on a teacher's salary. That percent goes down to zero in expensive San Francisco, where the average teacher can't pay for a single home. With the existing median list price in California at $485,000, the state's 300,000 elementary, middle and high school teachers, who have an average annual income of $69,300, will find it difficult to impossible to find an...Continue Reading!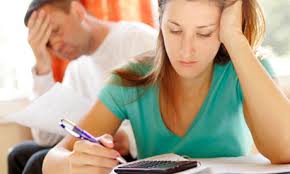 Let's analyze how homeownership produces "cents"-- from the tax benefits, to good old fashioned financial stability. The financial benefits of homeownership are evident year round, but particularly around tax time-- they appear to jump off the page! 1. Homeownership builds wealth over time We were always taught growing up that owning a home is a financially savvy move. Our parents knew it, and their parents knew it. But this past decade of real estate disturbance has shaken everyone's confidence in homeownership. That...Continue Reading!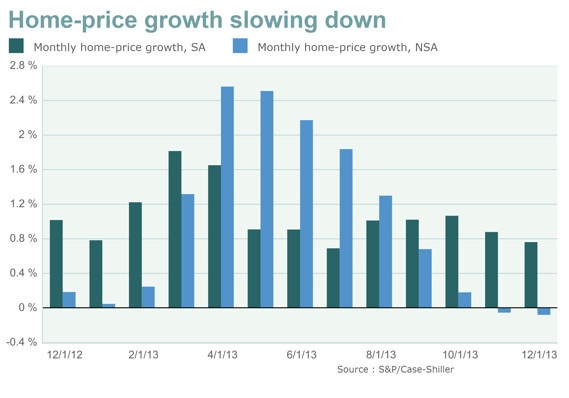 Nobel Prize-winning financial expert Robert Shiller said Tuesday that home-price growth is very likely to decrease this year, with demand hit by decreasing affordability, and many more factors. Mortgage rates have risen from ultra-low levels in 2012, dampening some buyer interest, Shiller mentioned. The average rate for a 30-year fixed-rate mortgage struck a record low of 3.31 percent in November 2012, and has since raised by over 1 full percentage point, basing on federally controlled mortgage buyer Freddie Mac. " [Rates] are...Continue Reading!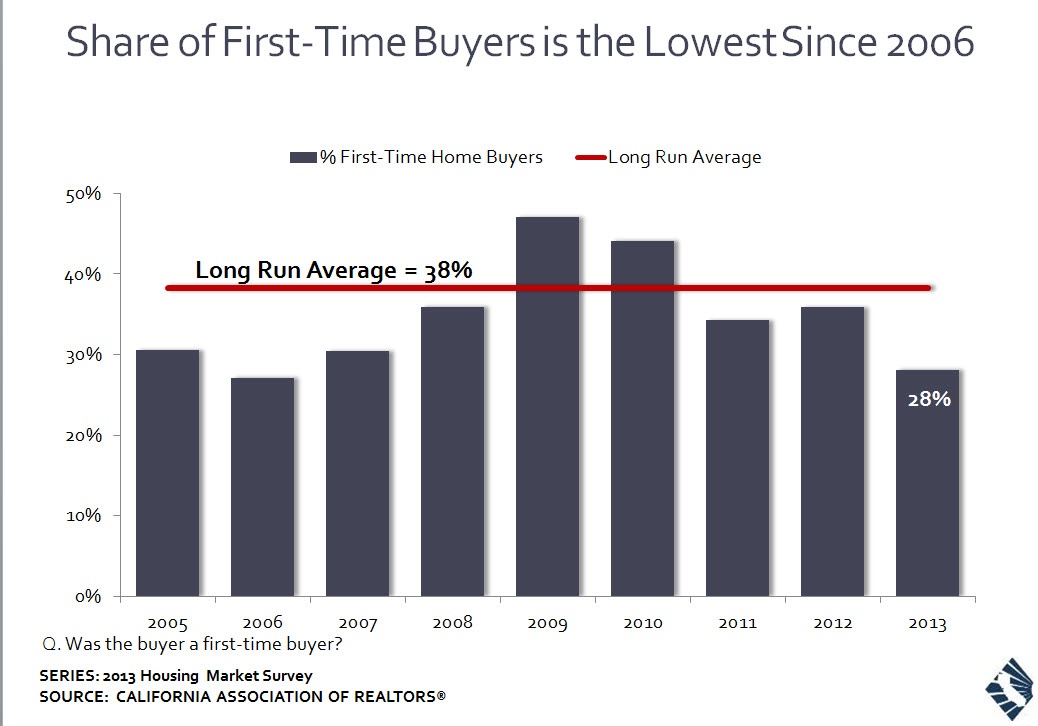 The share of first-time buyers stays below the long run average of 38 percent and is the lowest ever since 2006. After raising a little in 2012, the proportion of first-time buyers began dipping again this year as more real estate investors crowded out the lower-priced residential properties.Continue Reading!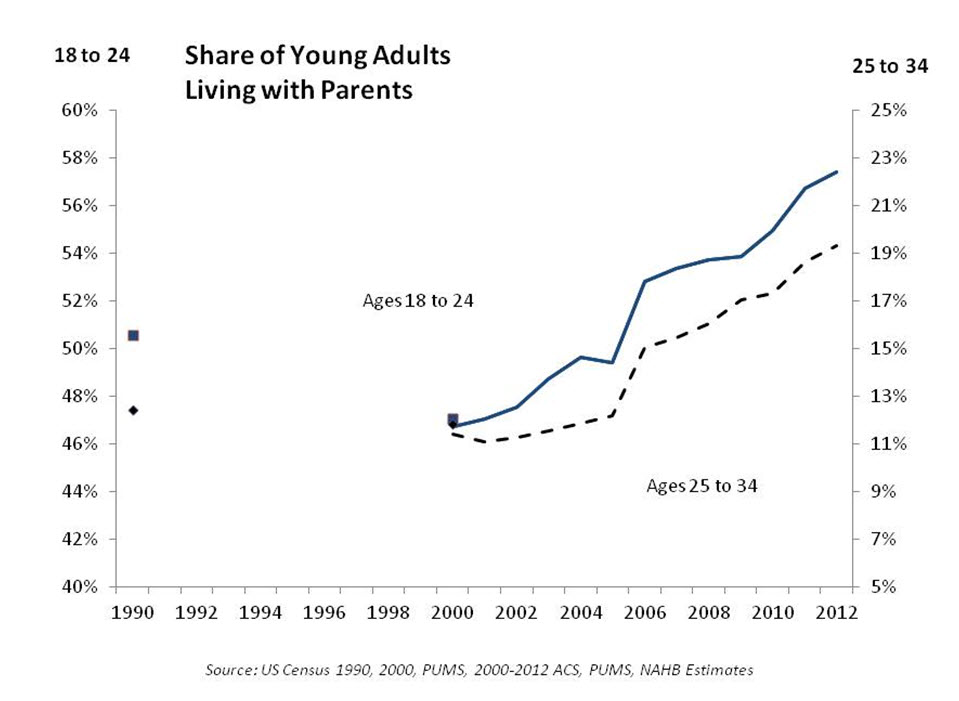 Increasing college enrollment among younger adults ages 18 to 24 helps explain their raised preferences for not leaving parent homes. The majority of adults in this age group, 52 percent, attended school or college in 2012, compared to 45 percent in 2000 and 43 percent in 1990. College attendance takes a lesser role in the choice of older adults, ages 25 to 34, to stay at parents' home. Under 14 percent of adults in this older cohort were still in...Continue Reading!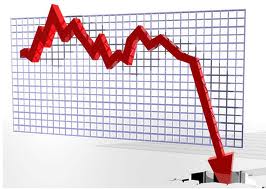 Sales of formerly owned U.S. homes dropped in January to the lowest level in over a year as extreme winter weather combined with a shortage of supply, tight credit and decreasing affordability impacted demand. Purchases decreased 5.1 percent to a 4.62 million annual rate last month, the least since July 2012, figures from the National Association of Realtors. The median forecast of 79 economists surveyed by Bloomberg projected sales would certainly go down to a 4.67 million rate. Sales fell in...Continue Reading!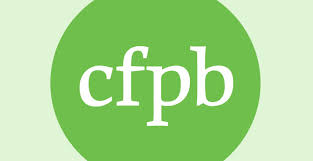 The head of a national business group is blasting the Consumer Financial Protection Bureau for going for what it calls "regulation by enforcement settlement" and the publication of guidance statements rather than writing clear regulations. In a letter to CFPB Director Richard Cordray, the U.S. Chamber of Commerce President David Hirschmann charged the CFPB of neglecting to promulgate clear rules, putting lenders in continuous fear of inadvertently incurring the agency's rage by unconsciously violating murky regulations. "We highly believe that if the...Continue Reading!