http://www.youtube.com/watch?v=2i7L-MleUV4&feature=youtu.be[/youtube
It's December 3, 2012 and this is a real estate market update for the San Fernando Valley, Los Angeles, California. We are still dealing with a very unhealthy real estate market in the Los Angeles region. We went from being a seller's market the beginning of the year, to ending the year with a buyer's market, and a supply and demand imbalance.
You can see in this chart the quantity of sales have stayed elevated throughout the 2012.
In this inventory chart you can visually see how the inventory has dropped compared to the past couple years. We're only running around 2000 units for sale when we historically need approx. 6500 units for a point of supply/demand equilibrium. So now we have 1 1/2 months inventory down from 17 months at the peak.
The result is we have multiple offer scenarios on any MLS listed property that's priced decently, in any condition. Pricing has been pushed up, creating appraisal issues. Cash buyers are squeezing out traditional owner occupied buyers that need loans. There's very little time for buyers to evaluate new listings as many are selling within days… sometimes hours.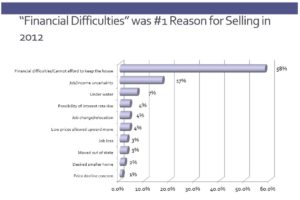 You can see in this chart that inventory is down across all price ranges year over year, especially in the critical $250-$600k bracket.
The sales are solid across all price ranges but in particular they're strong below $600k.
The unfortunate aspect of this market is with all the foreclosures in the system, very little are being submitted to the traditional market. Large blocks of properties are being sold to investment groups. Don't exclusively bash Wall Street. There are several Hedge Funds, REITs and local syndications buying properties, but there's also a lot of foreign money from the Middle East, Asia and Russia buying in bulk directly from Freddie, Fannie, and other major lending institutions.
If the gov't really wanted to have a solid economic recovery, they'd make sure there would be an adequate quantity of inventory being supplied to the domestic market. What I'm seeing is that they are more concerned about liquidating the GSEs REO inventory and artificially propping up real estate values. In some ways the gov't is getting their way, as the Consumer Sentiment surveys have been going up, and new foreclosure levels dropping.
Ron Henderson
President/Broker
Multi Real Estate Services, Inc
Gov't Affairs Chair – California Association of Mortgage Professionals
www.mres.com
ronh@mres.com