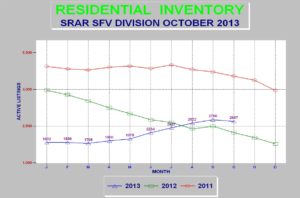 The San Fernando Valley real estate market is presently stable, but in transition. The foreign and hedge fund investor buying frenzy has abated, leaving the local standard buyer to do the heavy lifting going forward.
The upside, the local buyers can now find properties to purchase without having the multiple all cash offers to compete with. The downside, interest rates are going up. In conjunction with the higher property pricing from the past couple years, the affordability index has dropped substantially.
The local economy is doing better, but wages have not been keeping up with the appreciation of the properties. The new Dodd Frank mortgage regulations will be in force January 10, 2014. The tighter mortgage qualifying standards will eliminate a fair percentage of the general buyer base.
How will the local market hold up next year? The easy money has been made. There will be a rush to purchase before the interest rates go higher, but will the tighter underwriting neutralize it? Don't expect a renewal of the hot market of early 2013.
Ron Henderson GRI, RECS, CIAS
President/Broker
Multi Real Estate Services, Inc
Gov't Affairs Chair – California Association of Mortgage Professionals
www.mres.com
ronh@mres.com