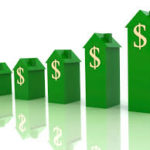 Stable year-over-year price gains are starting to get a bite into housing affordability, especially in the West, per the National Association of REALTORS ®' latest quarterly review.
The median single-family home price increased in 73 percent of the markets, or 119 out of 164 metro areas, in the fourth quarter of 2013, with 26 percent, or 42 of those metros, placing double-digit gains.
"The huge majority of home owners have seen significant gains in equity over recent two years, which is helping the economy with raised consumer spending," says Lawrence Yun, NAR's chief economist. "Simultaneously, home prices have been rising faster than incomes, while mortgage interest rates are above the record lows of a year ago. This is starting to hinder housing affordability.".
The national median existing single-family home price in the fourth quarter was $196,900, up 10.1 percent from $178,900 one year earlier.
NAR's Housing Affordability Index, calculated on the relationship between median home prices, median family incomes, and the average effective mortgage interest rate, fell to 175.8 in 2013 from a record high of 196.5 in 2012. The greater the index, the stronger household purchasing power is, according to NAR.
Yun states tight inventories have created the majority of the double-digit price growth. The typical supply of homes for sale in the fourth quarter was 4.9 months– an enhancement over the 4.8 months a year ago, but currently not what most economists consider healthy of a 6 to 6.5 month supply. Yun says that new home activity has to increase in fast appreciating markets to guide relieve the upward pressure on home prices.
"Added housing supply will help moderate price growth this year, and must assist to stem erosion in affordability, but mortgage interest rates are projected to rise above 5 percent by the end of the year," Yun says.
The 5 most expensive housing markets in the fourth quarter were generally:
San Jose, Calif.: $775,000.
San Francisco: $682,400.
Honolulu: $670,800.
Anaheim-Santa Ana, Calif.: $666,300.
San Diego: $476,800.
However, according to NAR's report, the following metro areas had the highest housing affordability in 2013:
1. Toledo, Ohio.
2. Rockford, Ill.
3. Decatur, Ill.
4. Lansing-East Lansing, Mich.
5. Springfield, Ill.