Teachers help form the foundation for strong, local communities, however just 17 percent of homes available in California are affordable on a teacher's salary. That percent goes down to zero in expensive San Francisco, where the average teacher can't pay for a single home. With the existing median list price in California at $485,000, the state's 300,000 elementary, middle and high school teachers, who have an average annual income of $69,300, will find it difficult to impossible to find an affordable home. Just how did we get to this point?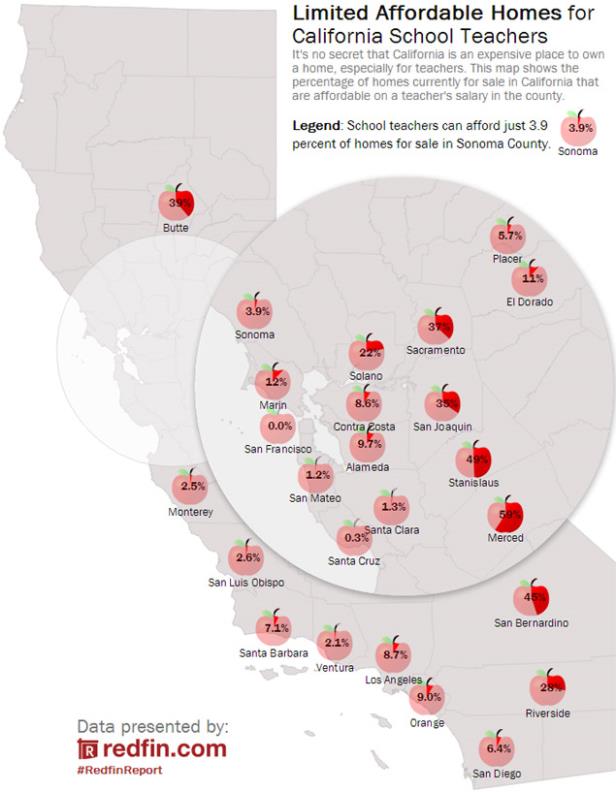 The California real estate market has been remarkable since the gold rush in the 1800s. People relocate from across the country and worldwide seeking the sun, surf and silicon (jobs). This need has increased home prices throughout the state for many years. Compounding the affordability problem, in many areas, not enough new homes have been built to sustain the population growth. The outcome is that homeownership is out of reach for most working Californians. As a matter of fact, basing on the Census, 71 percent of Californians households make below $100,000 per year.
What is an affordable price?
Getting an affordable home has to do with balancing your earnings with your monthly mortgage payment and other expenses. A basic tip when buying a home is that a monthly home payment should not exceed 28 percent of your gross monthly income. On an average annual salary of $69,300, a teacher should pay no more than about $1,600 a month. Given current rate of interest, property taxes, home insurance, a teacher can pay for a $260,000 single-family home or condo. Of the 50,559 for sale in California, just 17.4 percent are below $260,000.
Just how difficult is it to find an affordable home? In San Francisco County, the average teacher earns $59,700 per year, and there are zero homes for sale that we have computed as affordable on such a salary. By comparison, there are 139 listings with price tags over $1 million. In San Mateo, Calif., there are 7 homes available in a teacher's price range, while there are 254 homes listed for more than $1 million.
Pockets of affordability along the coast and the Counties along the Pacific Coast are typically much less affordable than inland counties, but ocean-loving teachers can get a few more options in Marin and Orange counties, where 12 percent and 9 percent of listed homes are affordable on a teacher's income, respectively. Away from the coast, from Riverside up through San Bernardino and Sacramento, teachers can qualify for a third to half of homes for sale.