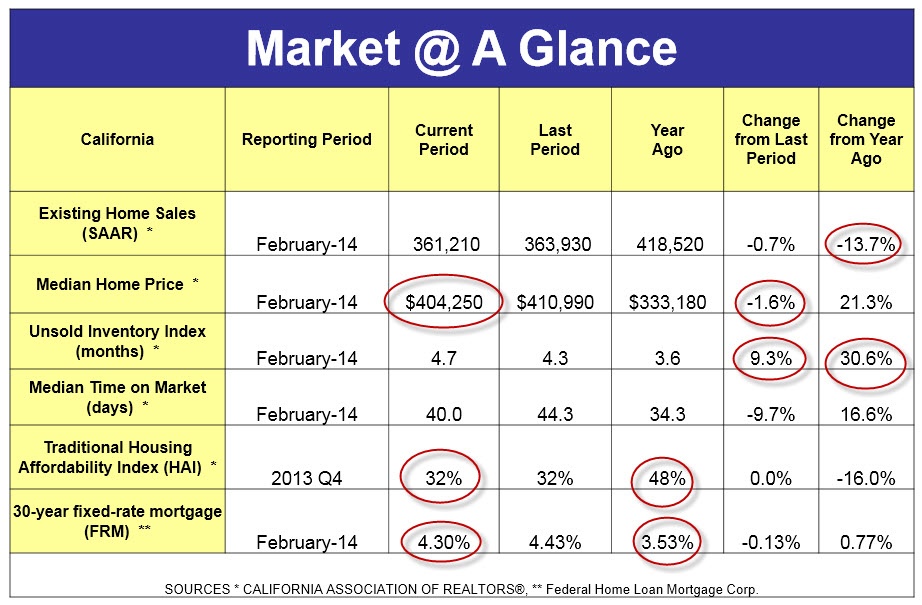 The softening of the California real estate market continues. The elements that overheated the market, foreign and institutional buyers, and historically low interest rates, are being replaced by traditional buyers that are dealing with tighter loan underwriting from new Dodd Frank regulations, and moderately higher interest rates. Inventory is still tight, holding values up, but inventory in increasing.
In a nutshell:
* Existing home sales down 13.7% from a year ago
* Median home prices down 1.6 % from last month, still up 21.3% over a year ago
* Inventory up 9.3% from last month and 30.6% from a year ago
* Housing Affordability down to 32% compared to 48% a year ago
* 30yr Fixed-rate mortgage about 3/4-1% higher than last year
Note: Buyers, even though rates are no longer at the bottom, they are historically still low, and will be going up. Inventory is higher than last year, with less competition from institutional buyers. Finding a property to purchase is easier compared to the last couple years.
Sellers: The easy money for this cycle has been made. If you're considering selling, don't set an unrealistic price. With the increasing inventory levels, you may not be in the driver's seat much longer.
Ron Henderson GRI, RECS, CIAS
President/Broker
Multi Real Estate Services, Inc
Gov't Affairs Chair – California Association of Mortgage Professionals
www.mres.com
ronh@mres.com
Specialist in the Art of Real Estate Sales and Finance