The qualified mortgage (QM) rule was implemented in January of 2014. It is the one of the rules that originated from the Dodd– Frank Wall Street Reform and Consumer Protection Act that will affect the housing market. This law is meant to protect consumers by strengthening underwriting standards, but the rules will increase costs and decrease accessibility for consumers. To see the effect of the new law, NAR Research evaluated a sample of loan providers with questions about the effect of the lending on their business and how the rule could consequently impact consumers.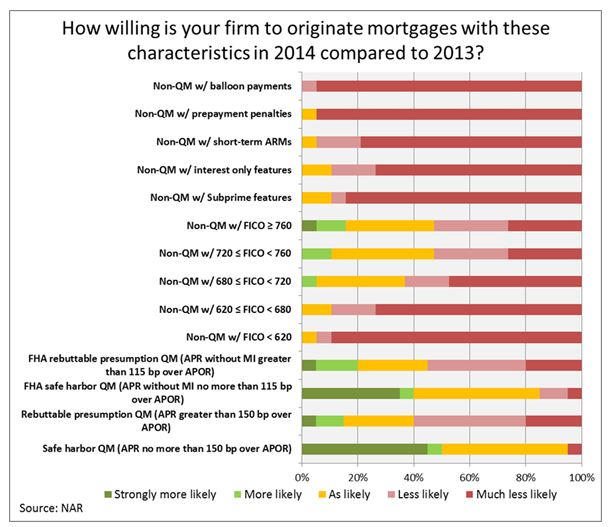 When questioned their willingness to loan to specific borrower types, most of originators suggested that they would be "much less likely" to make loans with non-QM product features as compared with 2013. Similar to results shown previously, originators indicated that they would be much less likely to lend to debtors with lower credit scores in the non-QM space and this restraint increased as credit quality diminished. Finally, more than half of originators indicated that they were either "less likely" or "much less likely" to originate QM loans that fell under the rebuttable presumption definition of compliance with both the QM standard or the FHA's QM standard. In contrast, 85 % and 95 % of originators indicated that they would be "as likely" or more likely to originate mortgages that accommodated the safe harbor description of the basic QM rule and the FHA's QM definition, specifically.
What does this change mean for REALTORS and consumers? Consumers should assume to have to document their income, employment and resources. If a buyer/borrower has a high debt-to-income ratio, the FHA in addition to Fannie Mae and Freddie Mac will be more lax than private financers. On the other hand, if a buyer/borrower falls into the other areas of the non-QM space and even the rebuttable presumption portion of the QM space (e.g. high fees, subprime, interest only, etc.) your client may need help finding a specialty lender.
We have access to numerous lenders and non-QM loan programs. If you are in the LA region, and have any specific questions, always feel free in contacting me through my website, or my email address or phone number shown below.
Ron Henderson GRI, RECS, CIAS
President/Broker
Multi Real Estate Services, Inc
Gov't Affairs Chair – California Association of Mortgage Professionals
www.mres.com
ronh@mres.com
Real Estate market, Mortgage rates, Los Angeles, San Fernando Valley, Conejo Valley, Simi Valley