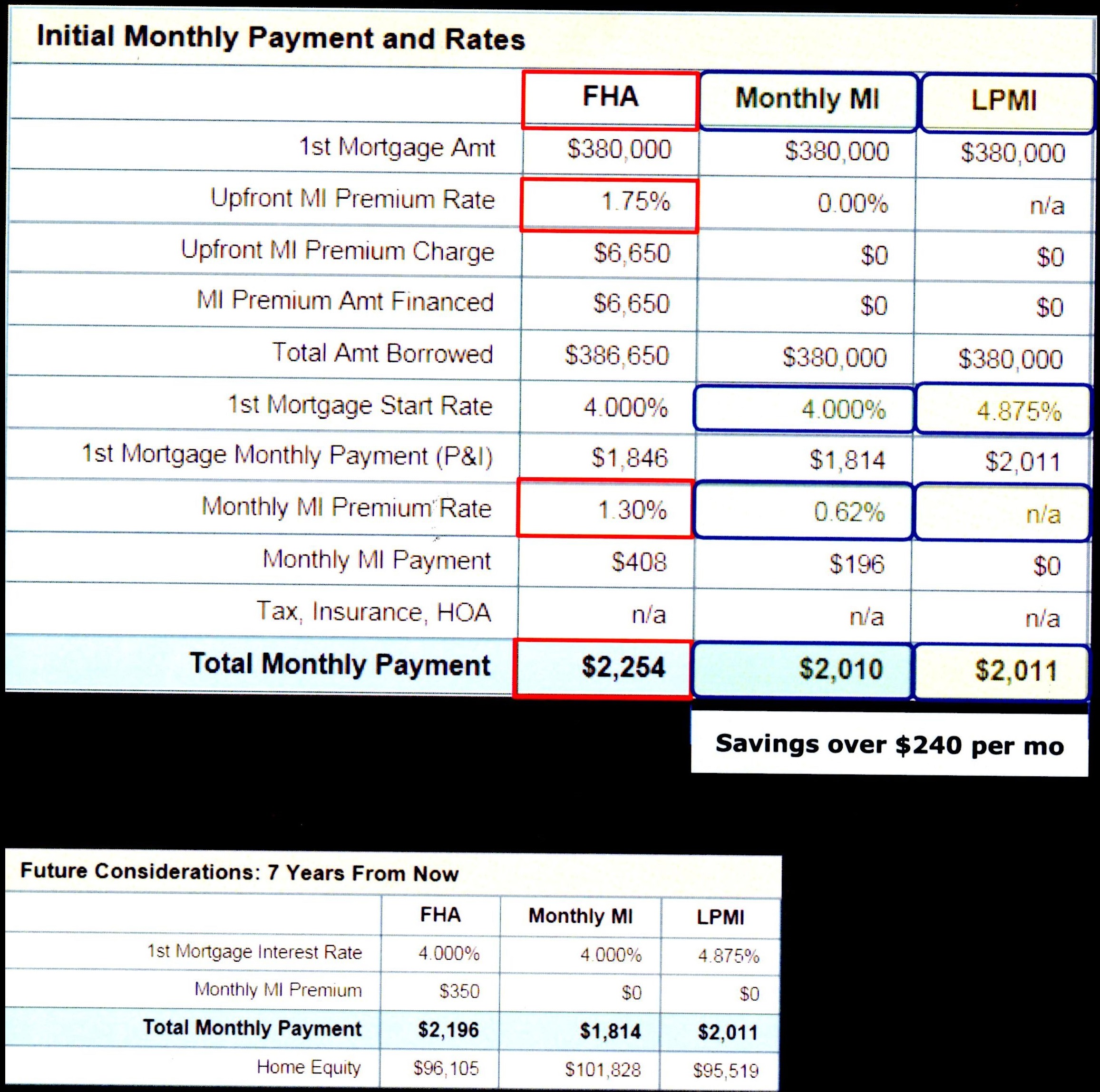 The recent coverage cost changes on both FHA and PMI have tilt the scales, in opposite directions, on the payment on high loan to value (LTV) loans.
Private Mortgage Insurance (PMI), Federal Housing Administration (FHA), and the Veterans Administration (VA), don't make loans. They insure the lenders from a the potential default of a borrower receiving a high LTV loan. The FHA has increased their cost of insurance several times over the past few years. Meanwhile the PMI companies have dropped their insurance rates.
Mortgage Insurance is technically not for the borrower. What it does do, it allows a borrower the ability to acquire a mortgage with less than 20% equity in a property.
FHA was the only game in town for a few years after the mortgage meltdown starting in 2007. Several PMI companies went out of business, or got very conservative on insuring loans. Also in the past, the actual cost of FHA coverage was much cheaper than it is today.
The attached chart shows a basic comparison of the cost and payment of a FHA loan vs a PMI covered loan vs a Lender Paid Mortgage Insurance (LPMI). LPMI is when the mortgage insurance is covered by the lender, and they increase the interest rate to cover the additional exposure.
In a nutshell, there isn't an upfront insurance premium on PMI or LPMI like there is on FHA. Also the monthly insurance rate is much cheaper on PMI and LPMI than on a FHA loan. Thus the monthly payment and principle amount on the FHA loan is higher. The positive for the FHA loan, it's easier to qualify.
Another recent change with FHA, the insurance will stay in place for the life of the loan, regardless on the equity accumulation. PMI can be taken off if the mortgage payment is paid on time for a minimum of 2 years, and the LTV drops to 78% (with lender approval).
It's always worth it to do a specific analysis on the property, borrower, and loan program to determine the best type of mortgage insurance coverage. Every aspect of the mortgage industry and the regulations applicable to it are moving targets, but as a generality, if the scenario qualifies, PMI is the way to go "today" .
If you are in the Los Angeles region, have any questions or real estate sales or financing needs, feel free in contacting me.
Ron Henderson GRI, RECS, CIAS
President/Broker
Multi Real Estate Services, Inc
Gov't Affairs Chair – California Association of Mortgage Professionals
www.mres.com
ronh@mres.com
Real Estate market, Mortgage rates, Los Angeles, San Fernando Valley, Conejo Valley, Simi Valley