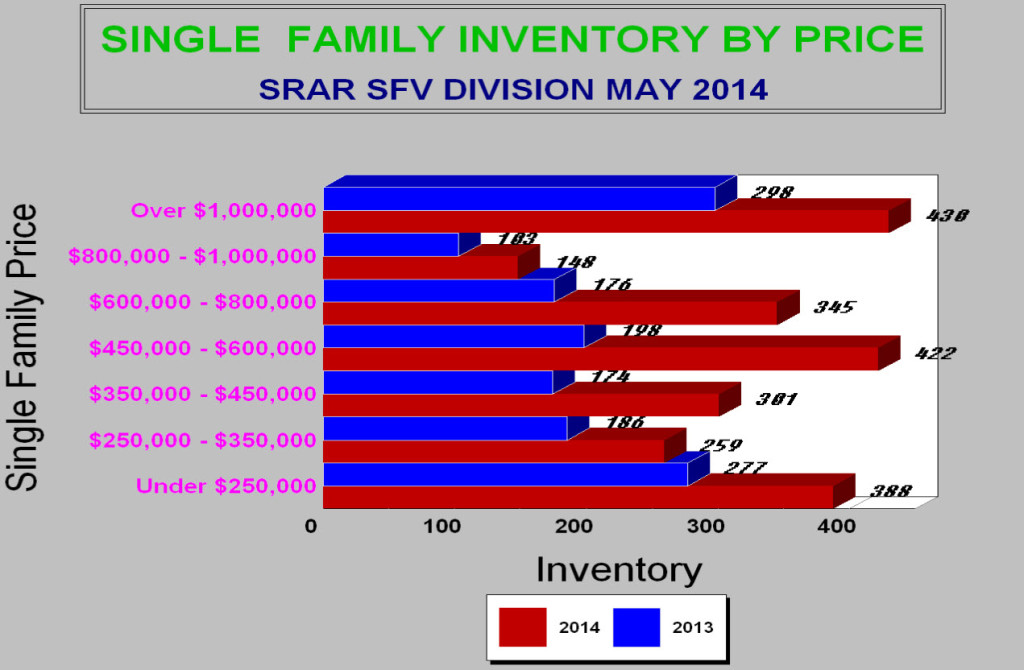 The San Fernando Valley (Los Angeles) active housing inventory is up substantially across all price ranges.
What does this mean? Real estate is a very regional element. National housing statistics that makes the news, has very little to do with what's happening in specific regions or neighborhoods. Basic Economics 101, supply and demand.
The overheated market created by a local feeding frenzy by hedge funds and foreign investors driving up prices, has subsided. Sales have dropped off, compared to 2013. Pricing is still appreciating, but not at the pace of the past few years, and trailing off each month.
Buyer pros:
*More of a selection of properties to choose from
*Fewer bidding wars
*Interest rates are still at historic low
Buyer cons:
*Don't expect the same rate of value appreciation that was realized over the past few years
*Because of new Federal mortgage regulations, it's harder to qualify for a loan (but recently starting to ease in selected loan programs)
*If you were in the market a year or two ago, and didn't buy, you may realize sticker shock, as pricing is way up
Seller pros:
*You've realized great appreciation over the past few years. If you've been thinking about selling, waiting may not put you in a better financial position.*There is a lot of buyer activity, so if you're priced right, you should get a sale
*If you're looking to move, and purchase another property… you've realized an appreciated equity position to apply to the new purchase, and great interest rates to use on the upleg property
Seller cons:
*Don't expect the 20 offers in 48 hours, that we were seeing last year.
*You have more competition. Price the property right, and be sure to repair and/or stage the property well when you first come on the market
*The buyer base has shrunk. The local economy has improved but wages have not kept pace with loan qualifying standards.
*Marginal properties that won't stimulate a buyer's emotion, or financial position, may sit on the market
Wildcard… If the Federal, or local governments eliminate or modify mortgage interest deductions, the 1031 Exchange, or Proposition 13 (property tax), it will have a negative effect on values and affordability. (presently only at committee levels)
If you are in the Los Angeles region, have any questions or real estate sales or financing needs, feel free in contacting me.
Ron Henderson GRI, RECS, CIAS
President/Broker
Multi Real Estate Services, Inc
Gov't Affairs Chair – California Association of Mortgage Professionals
www.mres.com
ronh@mres.com
Real Estate market, Mortgage rates, Los Angeles, San Fernando Valley, Conejo Valley, Simi Valley