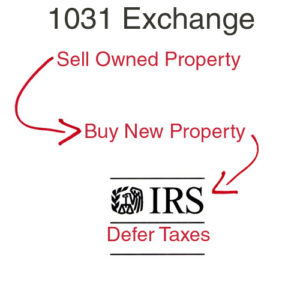 1031 Exchanges are great strategies to defer Capital Gains taxes while using the gains to expand a real estate portfolio. If you own investment real estate, or plan on owning investment real estate, you must understand this IRS code or you'll be cheating yourself.
Lets take this scenario: What if a couple had a long term rental that has a lot of equity. They don't want to live in that particular property (for whatever reason), and they don't want to sell it out right to buy a new owner occupied property, because they'll get killed in Capital Gains taxes. There's another great strategy, but they'll have to be careful of the chronology.
1) Sell the prior property and purchase the nicer property that the owner would like to live in using the 1031 Exchange. By following the parameters of the 1031, the Capital Gains are deferred.
2) They must rent out the new property before turning the property into "their home". The rental time frame is not inked by the IRS, but the IRS looks at the "intent" of the owner. Two years of maintaining the property as a rental is safe. Some accountants believe one full year, and two tax returns showing the property as a rental is adequate. Always go over the time frame with your accountant.
3) Wiping out the accumulated Capital Gain is possible by using the $250K/$500K exclusion of Section 121 when selling the "personal residence". BUT BE CAREFUL. In October 2004 the IRS changed the code and requires that if you acquire a personal residence via 1031 Exchange, you cannot sell and use the Section 121 Exclusion until five years have passed from the date of the Exchange.
Regulations and laws are moving targets. Be sure you use the guidance of "good" accountants that are aware of recent changes in the tax codes applicable to real estate.
If you are in the Los Angeles area, have any questions or real estate sales or financing needs, feel free in contacting:
Ron Henderson GRI, RECS, CIAS
President/Broker
Multi Real Estate Services, Inc.
Gov't Affairs Chair – California Association of Mortgage Professionals
www.mres.com
ronh@mres.com
Real Estate market, mortgage rates, Los Angeles, San Fernando Valley, Conejo Valley, Simi Valley, Woodland Hills, West Hills, Calabasas, Chatsworth