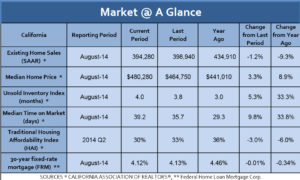 The real estate market in California continues its transition from a seller's market to one of neutrality. The unsold inventory has increased month over month by 5.3% and 33.3% year over year. The time on the market has has also increased over 33% year over year to 39 months. Even though interest rates have dropped from last year at this time, the Traditional Affordability Index dropped from 36% to 33%, mainly because property values were up substantially from last year.
Be aware of the trend change if you're looking to do a real estate transaction. Sales are down, inventory is increasing, and the foreign investors and hedge funds that were the heavy real estate buyers over the past few years are slowing their quantity of acquisitions. The general population will have a hard time maintaining the present price levels until the economic environment allows for wage increases. Real estate is very regional. Always evaluate what is happening economically in your immediate area. It can be substantially different that what is happening in the state, or the nation…
If you are in the Los Angeles area, have any questions or real estate sales or financing needs, feel free in contacting me.
Ron Henderson GRI, RECS, CIAS
President/Broker
Multi Real Estate Services, Inc.
Gov't Affairs Chair – California Association of Mortgage Professionals
www.mres.com
ronh@mres.com
Specialist in the Art of Real Estate Sales and Finance
Real Estate market, mortgage rates, Los Angeles, San Fernando Valley, Conejo Valley, Simi Valley, Woodland Hills, West Hills, Calabasas, Chatsworth