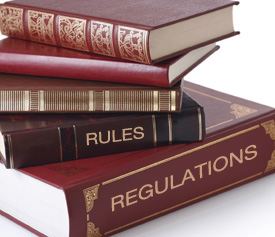 There's a conflict between two government agencies that lenders have to deal with. The Consumer Financial Protection Bureau (CFPB) telling lenders that they'd better only make loans to those borrowers that meet their Qualified Mortgage criteria, and the Dept of Housing & Urban Development (HUD) indicating lenders are practicing "disparate impact" asserting there's fair lending violations based on statistical differences on making loans, where there's neither intent nor discrimination can be proven.
In other words, damn if you do, damn if you don't make loans to some "protected groups". Even if a lender uses color blind computer based underwriting guidelines fulfilling one gov't organization's criteria, they can get nailed by another if they don't meet a statistical quota.
Disparate impact relies on a legal theory that more Supreme Court cases have found invalid. Using disparate impact creates unnecessary lender compliance risk, limiting credit availability and driving up the cost of borrowing.
This marks the third time in successive terms that the Supreme Court has agreed to hear a case presenting the question of whether disparate impact claims are permitted under the Fair Housing Act. In its two prior terms, the Court was poised to decide the question but the cases presenting it were settled shortly before oral argument. The first two challenges to the Obama administration were settled after the Obama administration, fearful it was on shaky legal ground, settled with plaintiffs using outside contributions from progressive charities.
Hopefully third time is the charm for the Supreme Court to settle the CFPB and HUD dispute. The government departments are refusing to settle the conflict between themselves, and it's going to take a Supreme Court decision to eliminate undue lender compliance risk.
If you are in the Los Angeles area, have any questions or real estate sales or financing needs, feel free in contacting me.
Ron Henderson GRI, RECS, CIAS
President/Broker
Multi Real Estate Services, Inc.
Gov't Affairs Chair – California Association of Mortgage Professionals
www.mres.com
ronh@mres.com
Specialist in the Art of Real Estate Sales and Finance
Real Estate market, mortgage rates, Los Angeles, San Fernando Valley, Conejo Valley, Simi Valley, Woodland Hills, West Hills, Calabasas, Chatsworth