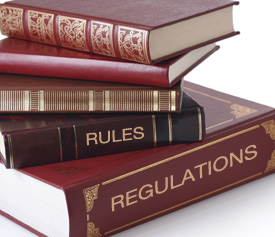 It's well known that the majority of the real estate and finance industries are not fully prepared for the impact of the upcoming Truth in Lending/RESPA Integrated Disclosure (TRID).
As a Delegate from California at the National Association of Mortgage Professionals Convention in April, one of the subjects we discussed with our representatives was the impact TRID was going to have on real estate transactions, especially since the implementation date is August 1, during the primary buying season. (not good timing)
Our logic was heard. Bi-partisan bill HR 2213, authored by Representative Stevan Pearce and cosponsored by my local Representative Brad Sherman (CA-30), will temporary delay the enforcement of integrated disclosure requirements for mortgage loan transactions. If HR 2213 passes, the new disclosure will still be implemented per the CFPB, but no suit may be filed against any person for a violation of such requirements occurring before January 1, 2016, as long as the person has made a good faith effort to comply with the requirements of the regulation.
Consider this one regulation contains 1,888 pages, 400+ changes, and 1,122 business rules. The relief this bill would bring will allow the industry time to adopt the substantial changes TRID will bring. Initially there will be a lot of confusion between services and lenders while they are developing their systems.
The present status of the bill is it has been referred to the House Committee on Financial Services.
If you are in the Los Angeles area, have any questions or real estate sales or financing needs, feel free in contacting me.
Ron Henderson GRI, RECS, CIAS
President/Broker
Multi Real Estate Services, Inc.
Gov't Affairs Chair – California Association of Mortgage Professionals
www.mres.com
ronh@mres.com
Specialist in the Art of Real Estate Sales and Finance
Real Estate market, mortgage rates, Los Angeles, San Fernando Valley, Conejo Valley, Simi Valley, Woodland Hills, West Hills, Calabasas, Chatsworth