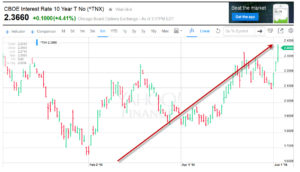 Interest rates have broken out of technical areas today. This chart of the 10 year note correlates with the direction of mortgage rates. Over the past 3 days we've seen a 1/4% increase in rates, and over the 2 months it's up 3/4%.
This will hurt potential buyers to qualify for loans, but also drive procrastinating buyers off the fence.
If you are in the Los Angeles area, have any questions or real estate sales or financing needs, feel free in contacting me.
Ron Henderson GRI, RECS, CIAS
President/Broker
Multi Real Estate Services, Inc.
Gov't Affairs Chair – California Association of Mortgage Professionals
www.mres.com
ronh@mres.com
Specialist in the Art of Real Estate Sales and Finance
Real Estate market, mortgage rates, Los Angeles, San Fernando Valley, Conejo Valley, Simi Valley, Woodland Hills, West Hills, Calabasas, Chatsworth