As California property values contin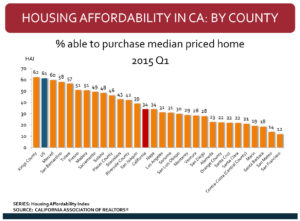 ue to appreciate, the affordability level drops. Just wait until the interest rates go up… This is only one element of the housing affordability issues many regions in California are realizing. It's a matter of supply and demand.
There aren't enough new units being built to satisfy the buyer base, or affordable rental units, driving up the rental cost up at a higher rate than sales prices.
Buying real estate, even at the higher price range is like buying insurance against higher future housing cost. Also consider the ownership of rental properties as a producer of capital gains, plus it supplies the residual effect of rental income.
If you are in the Los Angeles area, have any questions or real estate sales or financing needs, feel free in contacting me.
Ron Henderson GRI, RECS, CIAS
President/Broker
Multi Real Estate Services, Inc.
Gov't Affairs Chair – California Association of Mortgage Professionals
www.mres.com
ronh@mres.com
Specialist in the Art of Real Estate Sales and Finance
Real Estate market, mortgage rates, Los Angeles, San Fernando Valley, Conejo Valley, Simi Valley, Woodland Hills, West Hills, Calabasas, Chatsworth