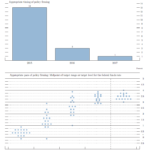 The Federal Reserve didn't implement a rate change last week because "international economic weakness, and inflation coming in below target". That doesn't mean there was a consensus among the Fed membership. In fact there is a broad disparity between the members on when the rates will change, and by how much.
This interesting chart correlates with the board member's perceptions. 13 of 17 thinks rates will change this year. 3 not till next year, and 1 not until 2017. Even within the next 3 months, one member believes the rate should be up to a full 1%, and one thinks there will be a rate drop to a negative .25%…
Long term the consensus puts the Fed rate back to 3-4%. We know rates won't say at the present 0-.25% forever. Regardless on what the Fed does, we know the big international money will be pushing the mortgage and bond markets around on an hourly basis. Over the past year, while the Fed was at zero, we've had a full 1% swing from high to low on mortgage rates.
Sorry Fed, you lost my interest. I'm not putting my money on you. I know better, and will be watching the mortgage backed securities, and 10 yr note daily to see what's really affecting the real world of real estate financing.
If you are in the Los Angeles area, have any questions or real estate sales or financing needs, feel free in contacting me.
Ron Henderson GRI, RECS, CIAS
President/Broker
Multi Real Estate Services, Inc.
Gov't Affairs Chair – California Association of Mortgage Professionals
www.mres.com
ronh@mres.com
Specialist in the Art of Real Estate Sales and Finance
Real Estate market, mortgage rates, Los Angeles, San Fernando Valley, Conejo Valley, Simi Valley, Woodland Hills, West Hills, Calabasas, Chatsworth