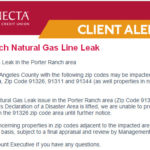 The Southern California Gas Company gas line leak is not just making people that live in the region sick physically, but potentially sick financially.
Until the gas leak is resolved and the state's Declaration of a Disaster Area is lifted, some lenders are putting moratoriums on accepting new real estate loan originations, and holding off on funding approved loans in the system.
Selling a property in the affected areas of Porter Ranch, Chatsworth, and Granada Hills has become more difficult. Aside from the additional disclosure of the leak, when you limit financing, the buyer base drops.
Appraisers will have to make note of the present leak in appraisals, and take into account the affect it will have on the property value.
The attached notice is from one of the local lenders that I broker loans to that is having an issue accepting loans in the affected region.
If you are in the Los Angeles region, have any questions or real estate sales or financing needs, feel free in contacting:
Ron Henderson GRI, RECS, CIAS
President/Broker
Multi Real Estate Services, Inc
Gov't Affairs Chair – California Association of Mortgage Professionals
www.mres.com
ronh@mres.com
Real Estate market, Mortgage rates, Los Angeles, San Fernando Valley, Conejo Valley, Simi Valley