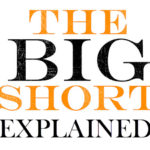 The critically acclaimed book/movie "The Big Short" is entertaining and gives some detail on the events and issues surrounding Wall Street's hand in the 2008 Financial Crisis. Hear a more detailed analysis on what transpired, and the role all the players, above and beyond Wall Street, had in creating the worst economic crisis since the 1930's. What has changed, what hasn't, and can there be another meltdown?
Ron Henderson President / Broker of Multi Real Estate Services will be presenting this Friday January 8 at 8:15am at the OutWest Marketing Meeting Weiler's West Hills Deli (Conference Room) 22323 Sherman Way, Canoga Park, CA.
The presentation and the OutWest Marketing networking meetings are free to real estate agents, real estate oriented business people and entrepreneurs.
If you are in the Los Angeles region, have any questions or real estate sales or financing needs, feel free in contacting:
Ron Henderson GRI, RECS, CIAS
President/Broker
Multi Real Estate Services, Inc
Gov't Affairs Chair – California Association of Mortgage Professionals
www.mres.com
ronh@mres.com
Real Estate market, Mortgage rates, Los Angeles, San Fernando Valley, Conejo Valley, Simi Valley