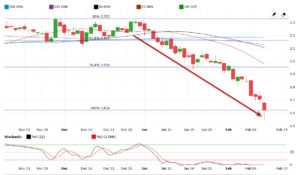 When the Federal Reserve increased the Fed Rate from 0% to .25% in December, Fed Chair Janet Yellen indicated the Fed expected four rate increases during 2016. What's happening so far in 2016 is a perfect example of what I was conveying in my blog in September  "Fed Rate and Affect on Mortgage Rates – May Not Be What You Expect (Video)" . Interest rates have dropped almost 3/4% over the past 5 weeks.
Why are rates down?
1) Commodity prices are down (including oil). Deflationary
2) Global growth is anemic (including China)
3) Central banks (except for US) are pushing rates so low to stimulate their economies, they are going negative on their interest rates
4) Foreign banks are in bad shape. US banks may start having issues because loans to oil companies may default
5) US stock market dropping because the perceived slower economy because of the Fed Rate increase and drop in exports
The United States economy may not be in the best shape historically, but it's presently the best option for international currency to be parked, when there are global economic issues.
The 10 year note (that most correlates with the direction of mortgage rates), started January at 2.3%. Today it dropped to a low of 1.53%, and closed around 1.64% (see chart).
If you're interested in evaluating refinancing, or pre-qualifying for a purchase money loan, call asap. Rates go up faster than they come down… normally. This rate drop could be considered a crash… We're looking at levels we haven't seen since their lows July 2012.
If you are in the Los Angeles area, have any questions or real estate sales or financing needs, feel free in contacting me.
Ron Henderson GRI, RECS, CIAS
President/Broker
Multi Real Estate Services, Inc.
Gov't Affairs Chair – California Association of Mortgage Professionals
www.mres.com
ronh@mres.com
Specialist in the Art of Real Estate Sales and Finance
Real Estate market, mortgage rates, Los Angeles, San Fernando Valley, Conejo Valley, Simi Valley, Woodland Hills, West Hills, Calabasas, Chatsworth