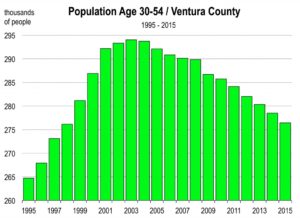 Like most who live in the region of Los Angeles and Ventura Counties, we enjoy the beautiful open spaces, and hate the traffic. The 2016 Ventura County Economic Outlook references how the urban growth controls have unintended consequences.
Growth controls have been in effect for years in most coastal counties of California. In Santa Barbara and Thousand Oaks, there is Measure E. In all of Ventura County, there is SOAR (Save Open-Space and. Agricultural Resources ) and it's been in effect for nearly 20 years. There is proposition M in San Francisco that caps annual build-out of office space. There are other land use controls throughout the Bay Area that limit annual growth of housing. San Diego County has many restrictions in place that limit changing general plans.
With growth controls in place, population and housing growth are generally limited, and in many cases, open space is preserved.
But consider this: the number of commuters to and from Ventura County to Los Angeles County are at record levels, and the average commute time of workers in Thousand Oaks, Moorpark, and Simi Valley are above the state and federal average commute time and akin to workers who reside in the San Fernando Valley. Ditto the Bay Area commute into San Francisco or San Jose.
Housing prices are rising fast all over coastal California, and many large companies are relocating to areas with fewer growth limitations.
There are many forms of growth controls in place in California counties, particularly along the coast. And there are many shapes and sizes of these controls but all have the expressed or unexpressed purpose of restricting population growth and urban sprawl to prevent a future for a region that includes more traffic and the loss of open space.
Examples of growth controls include containing development within specified urban boundaries, building permit restrictions, development impact fees, infrastructure requirements, MS4 regulations, and mandating inclusionary housing.
While the latter requirement might not overtly limit growth, it often reduces the density of housing and it leads to higher home prices on market rate housing which effectively limits the demand for housing.
These are typically the symptomatic costs of growth controls:
Higher housing prices and higher rents. Controls limit housing, but they do not (and cannot) deny new populations from moving into the controlled region. Demand for housing often exceeds supply and prices tend to rise faster in controlled regions as opposed to regions without controls. Certainly enough, the median price of homes are rising faster in the San Francisco Bay Area and Coastal Southern California than in the Inland Empire or Central Valley.
It's a paradox, but traffic congestion, energy consumption and air pollution frequently increase in areas with growth controls. Why? Because commuting patterns of workers are inefficiently altered when firms in the controlled region need workers but there is an absence of housing. Commuters, forced by housing prices and the lack of supply to live far from where they work, clog California highways and choke side streets during peak drive times to work.
An exodus of big employers. Almost every business and government agency that remains in the controlled region struggles with recruiting and retaining workers who cannot afford to live nearby. Firms end up defecting from the region or downsizing and opening operations in uncontrolled areas where access to a larger labor force (and more available and affordable housing) is less challenging.
Altered communities. Poorer families are often forced to double- and triple-up in rental housing. Unable to buy homes, many middle-class families with children move away. We have observed this particularly disturbing phenomenon occur in Southern Santa Barbara County and Ventura County.
Reference http://californiaforecast.com/
If you are in the Los Angeles region, have any questions or real estate sales or financing needs, feel free in contacting:
Ron Henderson GRI, RECS, CIAS
President/Broker
Multi Real Estate Services, Inc
Gov't Affairs Chair – California Association of Mortgage Professionals
www.mres.com
ronh@mres.com
Real Estate market, Mortgage rates, Los Angeles, San Fernando Valley, Conejo Valley, Simi Valley