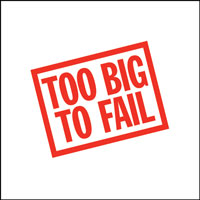 The general political rallying cry of "break up the big banks" is an obsolete statement, and as retired Democratic Congressman and Financial Services Committee Chairman Barney Frank put it on CNBC the other day, "they don't know what they're talking about".
Barney Frank was one of the architects of the Dodd-Frank Wall Street Reform and Consumer Protection Act and signed into federal law by President Obama on July 2010. The act is already in place, and was a governmental reaction to the Great Recession in 2007. The act is tens of thousands of pages long, and many parts are still being written. Because of unintended consequences, some of it is being modified.
The longer title is … "an Act to promote the financial stability of the United States by improving accountability and transparency in the financial system, to end "too big to fail", to protect the American taxpayer by ending bailouts, to protect consumers from abusive financial services practices, and for other purposes."
A lot of the new regulations have merit. Some of it is in conflict with existing regulations (or governmental agencies), and needs to be thought through better. Regulations are needed, and fine when properly thought through. They are counter productive and destructive if improperly written, or poorly implemented. More is not necessarily better. The cure can be worse than the disease.
Without the specific discussion of the new regulations already in place, any break up rant is only a political sound bite, that doesn't have validity.
Specific… Living wills, mandated by the Dodd-Frank financial reform law, are supposed to be the blueprint for how the largest banks could be unwound without damaging the financial system. Such plans are meant to avoid the sort of panic that swept Wall Street during 2008.
Worth discussing… Regulators recently flunked five of the eight largest banks required to generate living wills. Remember regulators and the banks are going through a learning curve on the new regulations. Big banks have to do a better job of describing how they would close down in case of a financial crisis. Banks that don't get up to snuff could face some big changes this fall, when updated living wills are due. The Dodd-Frank act gives regulators the power to require banks that come up short to raise capital or even spin off businesses, if that is what is needed to prevent their failure from bringing down other big firms. How aggressive regulators will be in using this new power is still an open question.
Also the pros and cons of bringing back a version of the 1933 Glass Seagall Act is a valid discussion.
I'm trying not to be political, but voters need to be educated on what's existing, what could realistically be done, the pros and cons of implementing new regulations. Breaking up is not easy to do. It takes effort to understand true economic realities. Don't expect the political candidates to do anything, except try and get you excited to give them your vote.
Doesn't matter which side of the aisle you sit. Be an educated voter. Don't vote off rhetoric, or political sound bites.
If you are in the Los Angeles region, have any questions or real estate sales or financing needs, feel free in contacting:
Ron Henderson GRI, RECS, CIAS
President/Broker
Multi Real Estate Services, Inc
Gov't Affairs Chair – California Association of Mortgage Professionals
www.mres.com
ronh@mres.com
Real Estate market, Mortgage rates, Los Angeles, San Fernando Valley, Conejo Valley, Simi Valley