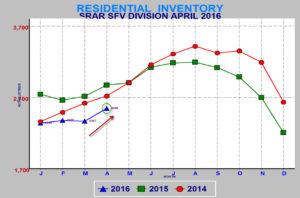 Interesting new statistics on the San Fernando Valley housing numbers. Basic economics… the market and pricing are based on supply and demand. Because of tight inventory, multiple offers have been driving up prices on San Fernando Valley real estate. The inventory level is still historically low but has gone up over the past month (see charts). Meanwhile the quantity of sales have dropped. The drop in new sales is interesting, as the spring season traditionally has an increase in month over month sales.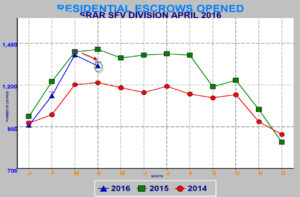 One month statistics is not a trend, but we'll have to keep an eye on it. Many potential sales are not showing up in the statistics because many strong buyers are losing out on multiple offer bids.
Mortgage rates are still amazingly low. The local economy is incrementally strengthening. Hopefully the inventory continues to grow to historically normal levels. Many present property owners that want to move, are stuck, as they want to know that they can find an a new property to purchase. If the move-up seller is unlocked, the overall market will be much healthier.
If you are in the Los Angeles region, have any questions or real estate sales or financing needs, feel free in contacting:
Ron Henderson GRI, RECS, CIAS
President/Broker
Multi Real Estate Services, Inc
Gov't Affairs Chair – California Association of Mortgage Professionals
www.mres.com
ronh@mres.com
Real Estate market, Mortgage rates, Los Angeles, San Fernando Valley, Conejo Valley, Simi Valley