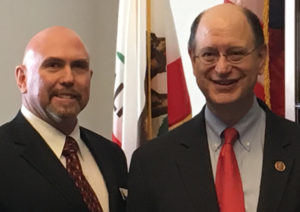 A new piece of bipartisan legislation, H.R. 4893, the Risk Management and Homeowner Stability Act has been introduced. Congressman Mark Sanford (R-SC), joined by Congressmen Brad Sherman (D-CA) and Randy Neugebauer (R-TX), is seeking to amend the Budget Control Act of 1974.
H.R. 4893 ensures that Guarantee Fees (G-Fees), that are supposed to be used as a critical risk management tool by Freddie Mac and Fannie Mae as reserves to cover potential losses, cannot be used as budgetary offsets for anything aside from their intended purpose – to provide stability to the mortgage market. Essentially this bill would prohibit using G-fees to pay for any spending unrelated to Fannie or Freddie.
Anybody that's been following my blogs know that I've had a major issue with the government increasing G-fees and using the proceeds for the general budget since 2013. This has been a hidden tax that the borrower doesn't see, as it's attached to the mortgage backed security. Even though it may not be seen, or disclosed, it does increase the borrower's interest rate.
A few years ago the government found out that if they tax the back end of the mortgage, the general population doesn't see it. They've been attempting to it to fund the ACA (Obama Care), highway bills, farm subsidies, and other (debatably unworthy) projects on the back of the homeowner.
Increasing g-fees for non-related purposes effectively taxes potential homebuyers and consumers looking to refinance their mortgages. G-fee increases, have harmed homeowners, continues to do so every day, and should not be extended to fund unrelated federal spending. By using the housing GSEs as a piggybank to fund unrelated government programs puts the housing market recovery in jeopardy.
The additional taxing of the mortgage has been counterproductive, and hypocritical to the Quantitative Easing approach the government was using stabilize the real estate market.One division of the government was buying mortgage backed securities to artificially lower interest rates, while another division was taxing the mortgage backed securities, increasing the rate.
I became affiliated with the California and National Associations of Mortgage Professionals years ago because I saw how many regulations and approaches the government was taking was going to have unintended negative consequences for consumers and the overall economy. By being a Government Affair Chair, it allows me the ability to discuss legislation and regulations with the powers that be, and be in a position to educate them on the how the changes will affect consumers, the real estate and mortgage markets and industries. H.R. 4893 is a sign we are being heard.
If you are in the Los Angeles region, have any questions or real estate sales or financing needs, feel free in contacting:
Ron Henderson GRI, RECS, CIAS
President/Broker
Multi Real Estate Services, Inc
Gov't Affairs Chair – California Association of Mortgage Professionals
www.mres.com
ronh@mres.com
Real Estate market, Mortgage rates, Los Angeles, San Fernando Valley, Conejo Valley, Simi Valley