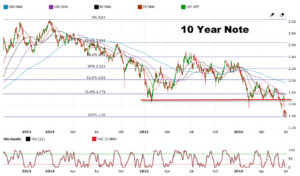 The British referendum to leave the European Union broadsided the financial markets last week. So much for the polls that predicted a different result. There are several variables. One thing we do know is this divorce will take years to be completed. There is also the potential there can be other populations that may demand their nations be removed from the Union… On the other hand within the UK, there's a push for another vote (apparent buyer's remorse).
Markets don't like unknowns. The only known element is the experiment of the EU is failing. Economies will be affected, and the reallocation of investment assets has already been searching for safe havens… Which leads me to …
1) Refi – The first thing that happened when the vote result before obvious, international money went to United States treasuries. The 30 year mortgage rates correlates with the movement of the US 10 year note. If you look at the chart of the 10 year note, you can see how the rate plunged to multi year lows last week, and broke through several technical resistance areas. If the financial market digest the shock of the vote, and becomes more calm about the future of the international economy, the rates will go back up. If there is more uncertainty about the EU, political leadership, or economic weakness… rates may go down some more. That said, the 10 year note at 1.5% is at historic lows. A bird in the hand… look at your present rate, and principle amount. May be a good time to refinance (again).
2) International Investment – Los Angeles has been one of the primary recipients of international investment currency for several years. Instability in the EU makes the US even more of a safe haven. It used to be large commercial and apartment real estate was the game. It still is, but there are several large funds that have been investing in single family units, and retaining as long term rentals. Unfortunately that is direct competition for local buyers, squeezing them out of ownership. Inventory is still tight. Values are still being driven higher.
3) Rents – Unless there is a major economic recession created by the EU adjustment, local rents will continue to go up. There are several large apartment complexes being constructed locally, and an easing in "granny flat" construction regulations. Until the additional units come on line, eases some of the supply and demand issues, rents will continue to outpace inflation.
4) Local Economy – Businesses that have direct European exposure will obviously be most affected by an EU change. Los Angeles logistically has exposure to Asia. China has it's own economic issues right now. The "real" trickle down of EU weakness may not be felt for years. The "perceived" economic environment always has a tremendous affect, and creates it's own reality.
Take away – Take advantage of the low interest rates. Refinance, or use leverage to purchase properties in strong economic areas. Beware of economically weak or declining areas. Keep your eye on the inventory levels. No matter what, supply and demand will rule. Cheap does not necessarily make a good investment. Owning owner occupied properties is a good insurance policy against rising rents. Rentals are great for income, but be careful. Change is not necessarily the best economic move (be careful what you wish for)…
If you are in the Los Angeles area, have any questions or real estate sales or financing needs, feel free in contacting me.
Ron Henderson GRI, RECS, CIAS
President/Broker
Multi Real Estate Services, Inc.
Gov't Affairs Chair – California Association of Mortgage Professionals
www.mres.com
ronh@mres.com
Specialist in the Art of Real Estate Sales and Finance
Real Estate market, mortgage rates, Los Angeles, San Fernando Valley, Conejo Valley, Simi Valley, Woodland Hills, West Hills, Calabasas, Chatsworth