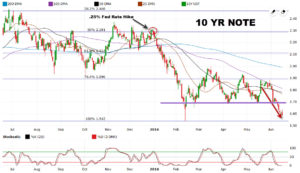 A combination of weak job numbers, mixed economic indicators, and the potential Britain exit of the European Union (BREXIT), has put the Federal Reserve on hold to increase the Fed Funds Rate. Internationally some countries interest rates have gone negative. That means if you put money into a government bond, you would actually end up with less money at the end of the term rather than more.
Mortgage rates track the US 10 year note rates. If you look at the attached chart you can see where the rates have dropped substantially since the Fed did their first, and only rate hike back in December 2015. Over the last 4 months the 10 yr note has bounced off a support level of 1.7%. Only over the past few days in June did the rate break through that support level and is presently below 1.6%.
The Fed back in December indicated they had a target of a 1% increase in Fed Funds rates in 2016. Now it's looking close to .25% for this year. Fed Chair Janet Yellen still targets a 1.5% Fed Rate in 2017…
What's happening so far in 2016 is a perfect example of what I was conveying in my blog last September  "Fed Rate and Affect on Mortgage Rates – May Not Be What You Expect (Video)".
Bottom line, mortgage rates are down. Always consider analyzing your real estate financing and portfolio when rates drop. Rates do go up faster than they come down, so best to not wait.
f you are in the Los Angeles area, have any questions or real estate sales or financing needs, feel free in contacting me.
Ron Henderson GRI, RECS, CIAS
President/Broker
Multi Real Estate Services, Inc.
Gov't Affairs Chair – California Association of Mortgage Professionals
www.mres.com
ronh@mres.com
Specialist in the Art of Real Estate Sales and Finance
Real Estate market, mortgage rates, Los Angeles, San Fernando Valley, Conejo Valley, Simi Valley, Woodland Hills, West Hills, Calabasas, Chatsworth