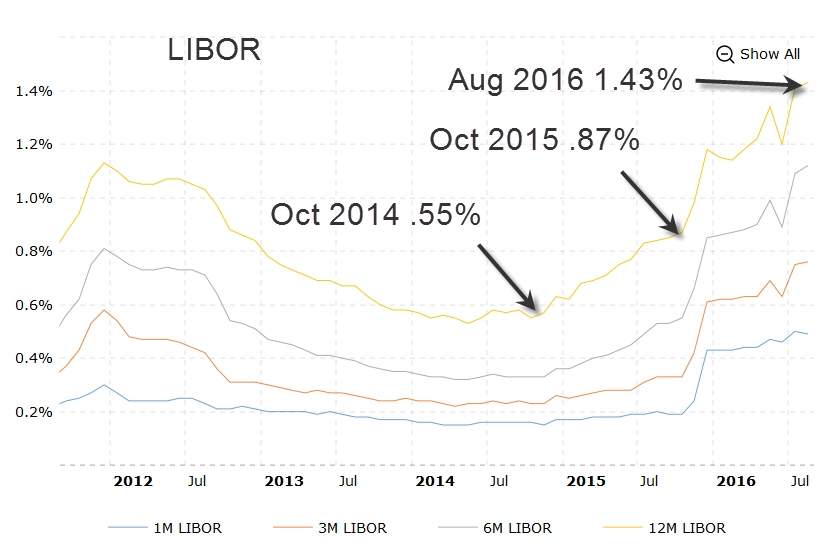 If you have an adjustable rate mortgage (ARM), and if the index it's using to determine it's interest rate is the LIBOR (London Interbank Offered Rate), you may be in for a shock the next time it adjusts.
The LIBOR is among the most common of benchmark interest rate indexes used to make adjustments to adjustable rate mortgages. The rates are based on a combination of the constant. A margin of commonly 2-3%, and the index, which is the adjustable portion, that the lender has no direct control over.
The LIBOR hit it's low in October 2014 at .55%. It's been on an upward trajectory ever since. October 2015 it was still under 1% at .87%. Now in August 2016 it's at 1.43%.
ARMs normally have adjustment caps of 1% every 6 months, or 2% every 12 months, depending on the terms of the loan. If you're unsure of the terms, they are stated in the Note or Promissory Note, when the loan was originated.
Even with caps, the interest rates have been so low, for so long, that even with a moderate adjustment, the percentage of the increase of the payment may be a bit of a shock.
If you're holding on to the property for any substantial amount of time, consider refinancing into a faxed rate. ARMs have been fine over the past 8 years, but the insurance policy the fixed rate gives can be well worth it. On another technical note, the short end of the interest rate yield curve has been going up while the long end has been stable. It's called a flattening of the yield curve. I've discussed this several times in the past and I warned about this in Yield Curve Drops Making ARMs More Expensive Relative to Fixed Mortgage.
This also has nothing to do with what the Federal Reserve does as I convey in Fed Rate and Affect on Mortgage Rates – May Not Be What You Expect (Video).
If you are in the Los Angeles area, have any questions or real estate sales or financing needs, feel free in contacting me.
Ron Henderson GRI, RECS, CIAS
President/Broker
Multi Real Estate Services, Inc.
Gov't Affairs Chair – California Association of Mortgage Professionals
www.mres.com
ronh@mres.com
Specialist in the Art of Real Estate Sales and Finance
Real Estate market, mortgage rates, Los Angeles, San Fernando Valley, Conejo Valley, Simi Valley, Woodland Hills, West Hills, Calabasas, Chatsworth