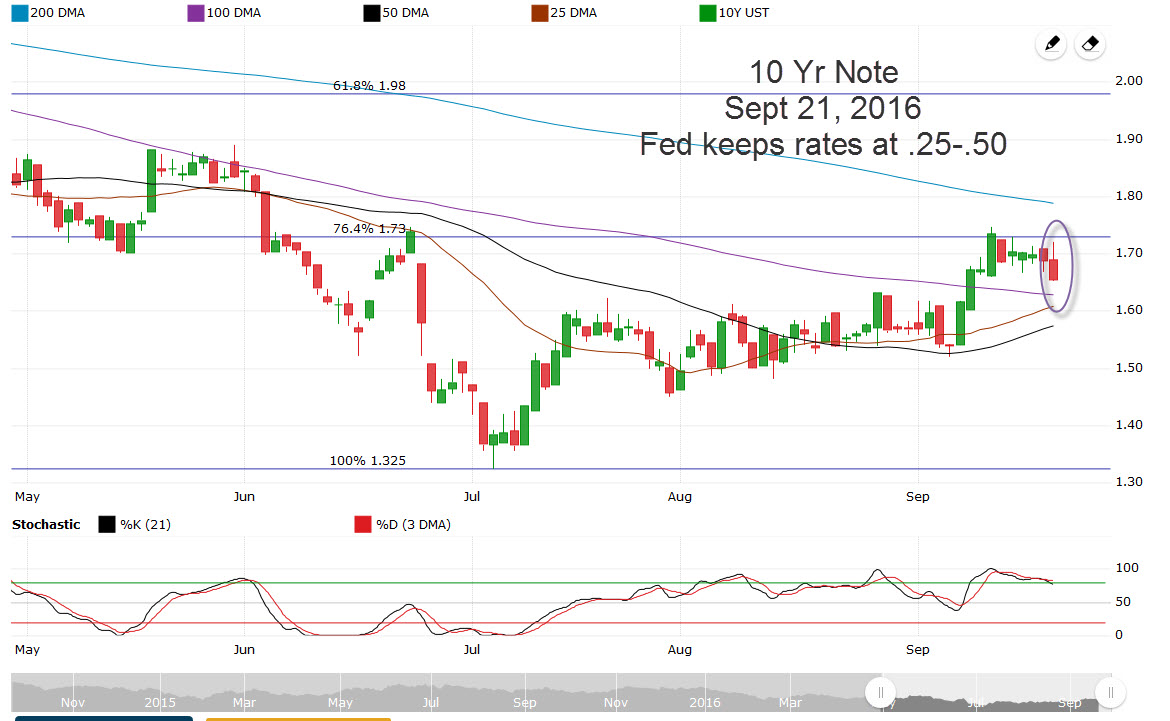 The Fed left rates unchanged at today's FOMC meeting. They said that the case for a rate increase has strengthened, but decided to wait for further evidence. There were 3 dissenters – Rosengren, Mester, and George, the most since December 2014. This could set up a hike in December. The Fed's Dots Chart shows that three Fed members think there will be 0 hikes this year, ten believe there will be 1 hike, three believe there will be 2 hikes, and one actually thinks there will be 3 hikes.
As you can tell in the chart of the 10 year note (most closely correlates with the 30 year mortgage movement), the rates dropped a fair amount after the Fed statement.
Obviously the 6 rate increases Fed Chief Janet Yellen talked about last December for this year was way off.
Meanwhile those that have home equity lines tied to the Prime Rate, or adjustable rate mortgages tied to US T-bills, will avoid an immediate rate increase. The Prime rate is really the only index tied directly to the Fed Funds Rate. ARMs attached to the LIBOR, all bets are off. That index has already been moving up for the past few months. Check out for more info Beware of the LIBOR -If Your Mortgage is Attached to it
The Fed also has little to do directly with the 30 year mortgage rate as I convey in Fed Rate and Affect on Mortgage Rates – May Not Be What You Expect (Video).
If you are in the Los Angeles area, have any questions or real estate sales or financing needs, feel free in contacting me.
Ron Henderson GRI, RECS, CIAS
President/Broker
Multi Real Estate Services, Inc.
Gov't Affairs Chair – California Association of Mortgage Professionals
www.mres.com
ronh@mres.com
Specialist in the Art of Real Estate Sales and Finance
Real Estate market, mortgage rates, Los Angeles, San Fernando Valley, Conejo Valley, Simi Valley, Woodland Hills, West Hills, Calabasas, Chatsworth