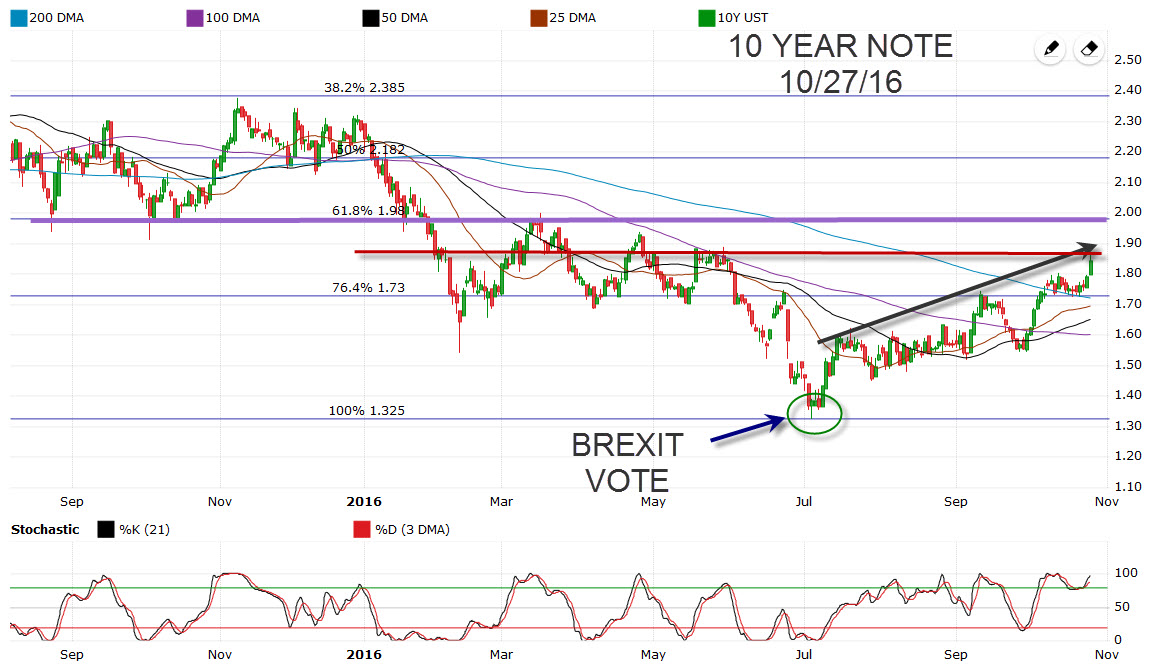 Ever since the interest rates dropped in July because of the international paranoia about what the economy was going to do after Great Britain voted to leave the European Union (BREXIT), the interest rates have gone up substantially.
30 year mortgage rates most closely correlates with the movement of the US 10 year note. Looking at the chart of the US 10 year note, you can see how rates bottomed out in early July at 1.3%. On a technical basis, the rates have blasted through numerous resistance levels, and the 10 year note is now well over 1.8%, or 1/2% higher than in July. The next major resistance for the increase in rates will be at around 1.98% (purple line).
The mortgage rates have little to do with the Federal Reserve short term rates. For those that are following news reports and thinking mortgage rates will be going up if the Fed increases rates in December, as you can see, will be way behind the curve by several months.
What we have to watch out for, rates go up faster than they come down. Holders of existing bonds, notes, and mortgage backed securities based on lower rates may start to sell them off if the perception is that rates will continue to go up. It's a matter of supply and demand. The more securities that are dumped on the market to be sold, will drive rates up even more.
Additional notes: Higher rates will hurt housing affordability. Some buyers that have been sitting on the fence waiting to buy, may jump into the market. Los Angeles active housing inventory is still tight, propping up property values.
If you are in the Los Angeles area, have any questions or real estate sales or financing needs, feel free in contacting me.
Ron Henderson GRI, RECS, CIAS
President/Broker
Multi Real Estate Services, Inc.
Gov't Affairs Chair – California Association of Mortgage Professionals
www.mres.com
ronh@mres.com
Specialist in the Art of Real Estate Sales and Finance
Real Estate market, mortgage rates, Los Angeles, San Fernando Valley, Conejo Valley, Simi Valley, Woodland Hills, West Hills, Calabasas, Chatsworth