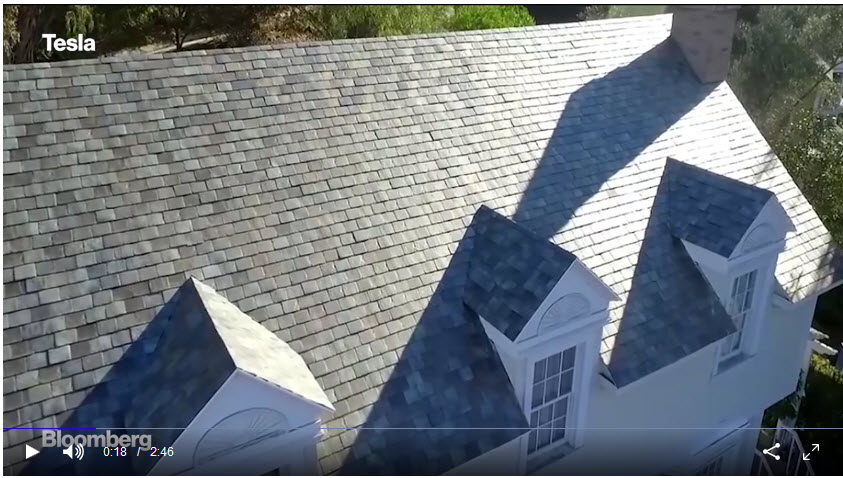 Elon Musk gave a presentation the other day on his vision of a Tesla solar roof tiles, battery storage, and the electric car trifecta. Technology is upgrading at light speed. The solar roof tiles are based on a Solar City design. Obviously the presentation is to tease the shareholders of Tesla on the Solar City acquisition possibilities, and prod them into voting positively in a couple weeks for the purchase of the solar company.
Musk didn't convey a price for the tiles, but admits if you don't have to replace your roof, you'll probably go with the old style panels. The new roof tiles, theoretically, will be available the end of 2017. By then the battery storage will be more efficient, and cost effective. Already the Tesla Powerwall version 2 stores twice the kilowatt power, at less cost than the version 1.
Personally I've been running a solar system for several years, and it definitely takes the edge off my DWP bill. Being in sunny Los Angeles, and with our utility bills skyrocketing, it won't take a lot for the new full roof system to economically make sense.
The video above and the BloombergTechnology article gives a good overview of the specifics of the system.
If you are in the Los Angeles area, have any questions or real estate sales or financing needs, feel free in contacting me.
Ron Henderson GRI, RECS, CIAS
President/Broker
Multi Real Estate Services, Inc.
Gov't Affairs Chair – California Association of Mortgage Professionals
www.mres.com
ronh@mres.com
Specialist in the Art of Real Estate Sales and Finance
Real Estate market, mortgage rates, Los Angeles, San Fernando Valley, Conejo Valley, Simi Valley, Woodland Hills, West Hills, Calabasas, Chatsworth