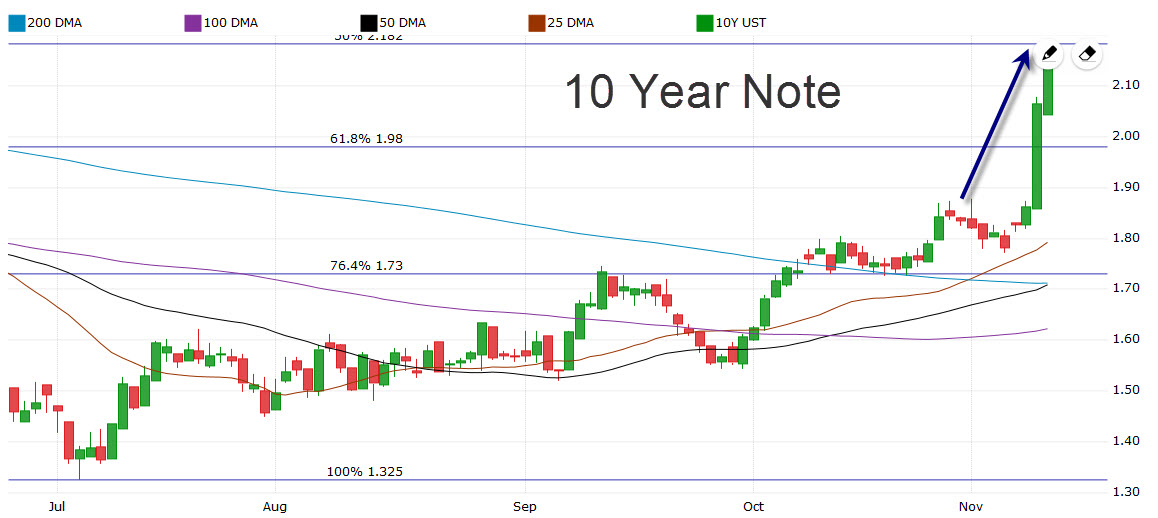 Two days in a row the long term interest rates have jumped up substantially, since Trump won the presidential election. I've said it numerous times… "Rates go up faster than they come down". This is a perfect example.
If you look the chart of the 10 year note you can visually see how dramatic the rate change has been. I've been getting 3 or 4 mortgage rate changes a day. This has nothing to do with the potential Federal Reserve rate increase slated for next month. This is all about the financial markets perceiving the economy will do better under Trump, but also they think there will be a lot of borrowing for infrastructure expenditures, and to cover theoretical income tax reductions.
We'll see what happens over the next few days, but on the technical side, the rates have blown through several areas of resistance, and can still have a ways to go. They're up almost 90 basis points since the lows in July caused by BREXIT.
If you are in the Los Angeles area, have any questions or real estate sales or financing needs, feel free in contacting me.
Ron Henderson GRI, RECS, CIAS
President/Broker
Multi Real Estate Services, Inc.
Gov't Affairs Chair – California Association of Mortgage Professionals
www.mres.com
ronh@mres.com
Specialist in the Art of Real Estate Sales and Finance
Real Estate market, mortgage rates, Los Angeles, San Fernando Valley, Conejo Valley, Simi Valley, Woodland Hills, West Hills, Calabasas, Chatsworth