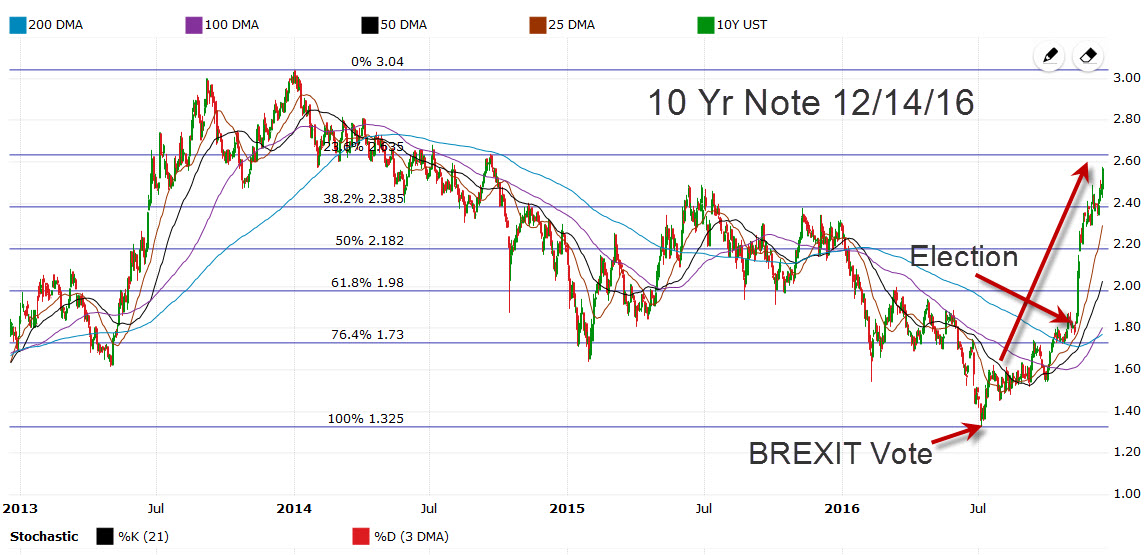 The Federal Reserve increased their overnight Fed Funds rate by .25% to .50-.75%. The bond market seemed more concerned about Fed Chair Janet Yellen's press conference, and if the Fed is behind the curve, and moving too slow. Yellen indicated that they are planning three more rate adjustments in 2017, instead of two that she conveyed in September.
December 2015 was the first, and only Fed Rate increase in 10 years. During last year's press conference Yellen indicated the Fed expected four rate increases in 2016… There was only one, today's. Shows how credible (not) the Fed's forecasts are.
Regardless of the Federal Reserve, the long term interest rates, including mortgage rates, have been going up in a parabolic trajectory since they hit their historic lows in July, after the anxiety about the BREXIT vote in Great Britain settled down. Rates are now at the highest level since 2014.
Mortgage backed securities follow the 10 year note. If you look at the chart, you can see how the rates have jumped from their lows of 1.32% in July, to 2.57% today. If the note breaks through the 2.63% level, they can go up another 3/8%. Hopefully the market calms down. It's not unusual for long term rates to drop after a Fed Rate hike.
Also watch for stock and bond market swings in January. The equity markets have done well since the election. So well that investors won't want to sell in this calendar year, if they can get a capital gains tax break next year (if Trump's campaign pitch comes true). Historically if the stock market goes down, the money is then parked in the bond market, dropping rates.
If you are in the Los Angeles area, have any questions or real estate sales or financing needs, feel free in contacting me.
Ron Henderson GRI, RECS, CIAS
President/Broker
Multi Real Estate Services, Inc.
Gov't Affairs Chair – California Association of Mortgage Professionals
www.mres.com
ronh@mres.com
Specialist in the Art of Real Estate Sales and Finance
Real Estate market, mortgage rates, Los Angeles, San Fernando Valley, Conejo Valley, Simi Valley, Woodland Hills, West Hills, Calabasas, Chatsworth