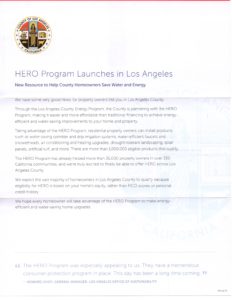 As I blogged and gave presentations on over a year ago (Think Twice About Using a HERO Energy – Water Conservation Financing Program), the PACE (Property Assessed Clean Energy) and HERO (Home Energy Renovation Opportunity) loans pitched by the government and sold by contractors to make energy and water efficient upgrades sounds good on face value, but they can present major issues if a property owner wants to sell the property, or refinance.
The new disclosure is the same as the TILA/RESPA Integrated Disclosure used with owner occupied mortgages, as it requires the disclosure to be signed 3 days before the borrower can sign the loan documents. The disclosure document contains a variety of notices and warnings including a notice that the property owner may not be able to refinance or sell without paying off the PACE obligation.
If you use a PACE/HERO loan to do upgrades, and selling the property, expect to pay off the loan through the transaction. For the reasons…
If you are in the Los Angeles area, have any questions or real estate sales or financing needs, feel free in contacting me.
Ron Henderson GRI, RECS, CIAS
President/Broker
Multi Real Estate Services, Inc.
Gov't Affairs Chair – California Association of Mortgage Professionals
www.mres.com
ronh@mres.com
Specialist in the Art of Real Estate Sales and Finance
Real Estate market, mortgage rates, Los Angeles, San Fernando Valley, Conejo Valley, Simi Valley, Woodland Hills, West Hills, Calabasas, Chatsworth