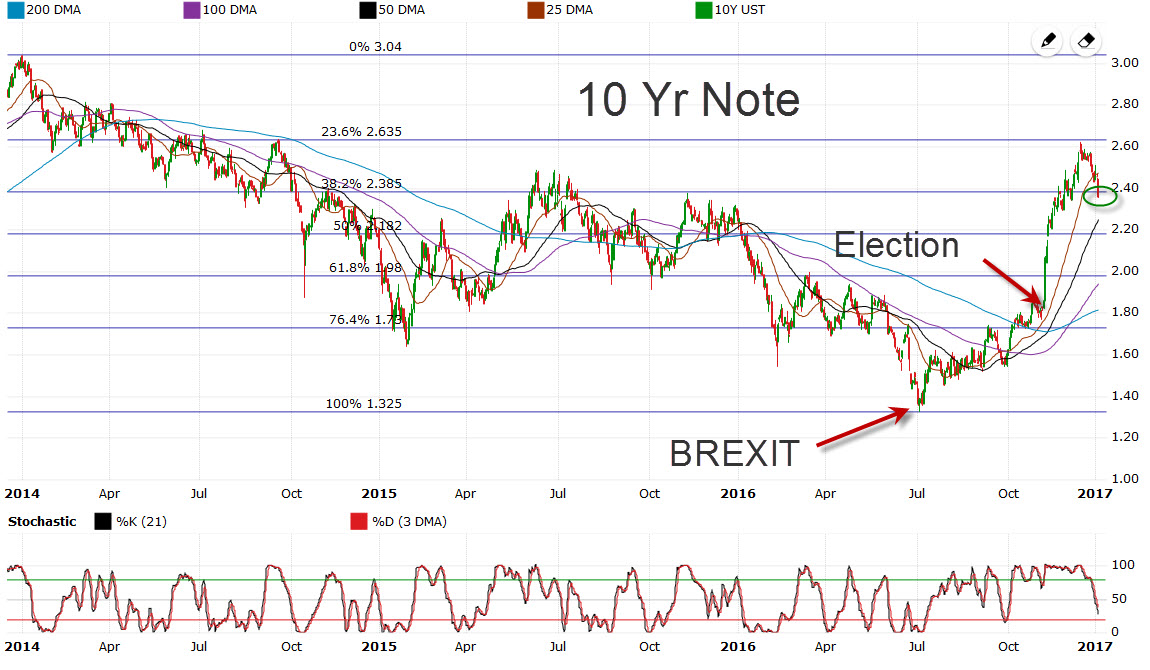 After a parabolic increase in interest rates since the BREXIT vote in July, the rates have backed off a fair amount over the past few days. I expected this since the bonds and mortgage backed securities needed to take a break, and the investors that had capital gains over the past year held off on selling their positions till 2017 kicked in. That way they wouldn't have to pay the taxes on the recent gains in their 2016 taxes, and there's a possibility capital gains rates may be lower if a Pres-elect Trump's income tax reduction becomes a reality.
The 30 year mortgage tracts the 10 year note rate. If you look at the chart of the 10 year note, you can see how the recent high was at 3.0% January 2014. It dropped for the next 2 1/2 years till it hit it's bottom at 1.32% after the BREXIT vote. The rate bounced off that low, and steadily climbed until it jumped substantially after the election result. The rate bounced off the 23.6% Fibonacci at 2.635% a couple weeks ago and now retraced some of it's gains, potentially on it's way to the 50% Fibonacci around 2.18%.
We may have a reprieve from the rates escalating for a little while, but don't be fooled. I'm sure we'll see 3% within the year. Adjustable Rate Mortgages are appealing, if you're dealing with a short term property holding, or paying off the loan soon. If you're holding on to the loan for a while, the fixed loan is the way to go. You won't see these rates in the future.
If you are in the Los Angeles area, have any questions or real estate sales or financing needs, feel free in contacting me.
Ron Henderson GRI, RECS, CIAS
President/Broker
Multi Real Estate Services, Inc.
Gov't Affairs Chair – California Association of Mortgage Professionals
www.mres.com
ronh@mres.com
Specialist in the Art of Real Estate Sales and Finance
Real Estate market, mortgage rates, Los Angeles, San Fernando Valley, Conejo Valley, Simi Valley, Woodland Hills, West Hills, Calabasas, Chatsworth