You may have heard someone say "We're building like crazy, why aren't prices going down?" You may have even thought: does supply and demand not apply to housing? But it largely does! While housing economics can be more nuanced at the local level in short periods – in a gentrifying neighborhood new condos may drive prices up as new wealthy residents come in and drive up local demand, at a city or county level this doesn't happen.
People move to a city or a county for a job and that demand for jobs given the supply of houses determines prices. And in the case of California, demand has been much greater than new supply.
For example, rents in Los Angeles-the state's largest housing market, have been rising since 2002, when the city's economy began to improve after the decade long recession ended. Housing production coincidentally peaked around 2004, but at 20,000 units, a level almost a quarter below the city's peak of 80,000 units in 1988. As the economy ramped up in general, supply artificially constrained by zoning restrictions did not respond and prices rose.
Even in the recent high job growth period, new construction has increased only marginally from historic lows, remaining well below levels regularly sustained in the 1970s to the early 2000s. In this period of continuing job and economic growth, as soon as the rate of construction slows, prices jump.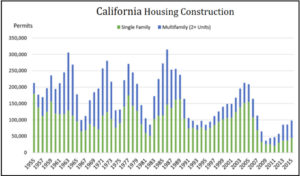 The state Housing and Community Development office estimates that we need 180,000 new housing units every year to keep up with general demand, about half of what we are making. Each year that the state produces fewer than 180,000 homes is a year where affordability worsens.
Does this happen elsewhere? Other cities like Dallas, Austin, Raleigh, and Houston have been growing to accommodate new domestic migration looking for jobs. This has meant expanding their geographic area, but at the benefit of comparatively flat housing and rental prices. For now, those cities have less limit on their growth than land constrained cities like Los Angeles and San Francisco (where zoning and antidensity activism keep building in cities low).
But what about California areas with seemingly limitless land, why aren't we building in the Inland Empire, or other low-density areas? On top of zoning rules that block construction, in most jurisdictions each additional unit carries substantial political and financial costs: impact fees, zoning, environmental and community litigations on building increases costs of construction. Cities in the Inland Empire – an area that is not space unconstrained, require $60,000- $70,000 of impact and development fees per unit before a single brick is laid, in San Francisco that amount is even higher. Those are additional costs that are baked into costs.
There have recent discussion about tightening rent control ordinances, but that will have several unintended consequences and will exasperate the issue. This
If you are in the Los Angeles area, have any questions or real estate sales or financing needs, feel free in contacting me.
Ron Henderson GRI, RECS, CIAS
President/Broker
Multi Real Estate Services, Inc.
Gov't Affairs Chair – California Association of Mortgage Professionals
BRE #00905793  NMLS #310358
www.mres.com
ronh@mres.com
Specialist in the Art of Real Estate Sales and Finance
Real Estate market, mortgage rates, Los Angeles, San Fernando Valley, Conejo Valley, Simi Valley, Woodland Hills, West Hills, Calabasas, Chatsworth