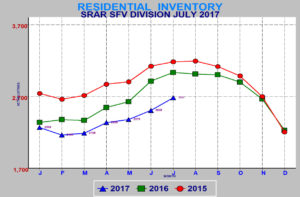 The Los Angeles, San Fernando Valley and the California state housing market statistics have many of the same characteristics. Unsold inventory is historically tight, days on the market are low, regardless on the drop in the affordability index.
If you look at the San Fernando Valley charts you can see the inventory levels have continued to drop year over year since the bottom of the Great Recession. The quantity of escrows being opened, and transactions closed over the last month, have dropped. This is primarily a result of the inventory levels being low. It's still a supply and demand problem. Properties listed at a proper level, that doesn't have issues, are still realizing multiple offers. That's not to say that the drop in affordability isn't an escalating issue for buyers, and renters.
Even though the interest rates have stayed low, it makes mathematical sense that the affordability would take a hit. Property values continue to escalate, without wage appreciation to compensate for the cost. Renters are having a hard time saving for downpayments, as rents are going up faster than property values.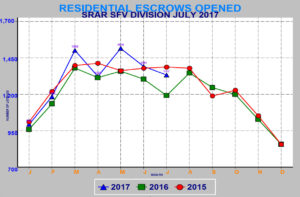 There are numerous low down payment loan programs that can compensate for not having a large down payment, but buyers using those programs generally will lose out on multiple offer scenarios to larger down payment buyers.
We'll see soon if the quantity of sales will rebound, or if the prices are finally hitting a point of resistance.
The housing crisis is real, and there is no housing bubble. Unfortunately the political approach of rent controls, anti-development regulations, and adding to the cost of new development with linkage fees (taxes) is only exasperating the cause of the supply issue. We all want to help the homeless and economically challenged, but until the root cause is recognized and dealt with, there will be higher rents and home prices worsening our housing shortage and squeezing out the hard-working middle class.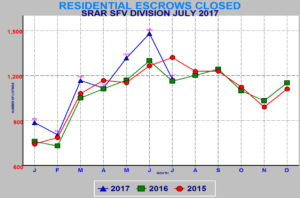 If you are in the Los Angeles area, have any questions or real estate sales or financing needs, feel free in contacting me.
Ron Henderson GRI, RECS, CIAS
President/Broker
Multi Real Estate Services, Inc.
Gov't Affairs Chair – California Association of Mortgage Professionals
BRE #00905793 NMLS #310358
www.mres.com
ronh@mres.com
Specialist in the Art of Real Estate Sales and Finance
Real Estate market, mortgage rates, Los Angeles, San Fernando Valley, Conejo Valley, Simi Valley, Woodland Hills, West Hills, Calabasas, Chatsworth